Tuesday
Community Articles, Southern States
Race, Love, and Liberation
A coalition of meditation centers sponsors community conversation around race, power, and unity in North Carolina
by Catherine Neill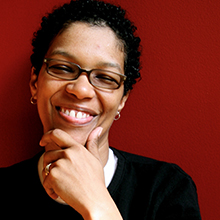 A long time ago, though it's only been two weeks, we were in church on a Friday night in Durham, North Carolina to hear Rev. angel Kyodo williams. Everything that has happened in the interim makes that event much more timely and relevant. We chose a church for her talk because we are in the south; Duke Memorial Church is also a member of Durham Congregations in Action (DCIA), a co-sponsor of the event. We – the organizers of this event – came from Durham Shambhala Center, Chapel Hill Zen Center, and Triangle Insight Community, representing a nascent coalition in Durham, a city of 220,000 people, 52% of whom are African-American, Asian and other people of color. Durham is the fifth largest metropolitan area in North Carolina with the largest proportion of minority residents.
That Friday talk, attended by about 200 people, brought us together to acknowledge the separation that has been an obstacle to our development as individuals as well as to the development of society as a 'whole. ' A number of people in the room had read or knew of Rev. angel's book, Radical Dharma: Talking Race, Love, and Liberation. Many others left the evening wanting to read it. Durham was a stop on her book tour and our three sanghas had prepared by reading and discussing the book in advance.
On Saturday and Sunday, 50 people, mostly from our Buddhist sanghas, continued the conversation from Friday in a smaller, highly visible venue in downtown Durham (Durham Self-Help). The training, called "EmbRACE Power Awareness: A Third Way Training " included many of the elements mentioned in "Exploring Social Cocoon," the Melanie Klein article posted in the Shambhala Times on June 19th. Rev. angel's assistant, Śvani Grevemeyer, led us in centering exercises that supported our conversations on racism. Yes, it is hard to talk to white people about racism, as our recent election has shown. As meditators, we started from the ground of openness established through meditation practice and explored some of the painful reminders of our separation from each other.
Now that we are two weeks past these events, the conversation continues. Our planning group has resolved to hold another community-wide event to occur on Martin Luther King Day. We will encourage the leadership in our communities to participate in racial equity training as a starting point. One participant from the weekend has created a facebook page to track our success and perhaps our frustrations during these difficult times.
Through our initial joint effort, our local Buddhist communities were able to create a program that was more visible and accessible than it might have been had the Durham Shambhala Center organized it alone. Our three sanghas have taken different approaches to social activism, but we're unified in our yearning for a more compassionate society. We are certainly stronger together, and we intend to build on that momentum going forward. Clearly, there's no time to waste.
Post Tags:
race
,
social engagement
,
social justice