Tuesday
Germany
Tears and Joy in Cologne
Elder practitioners gather to share their inspirations, concerns, and delights
by Petra Hunsche and Josje Pollmann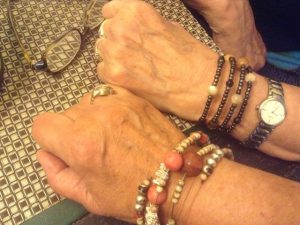 The first 'Gathering of Elders' in Cologne will be remembered as a warm and empowering experience. About twenty-five elder sangha members from different European countries participated in this joyful meeting during a weekend at the end of October.
Three old Shambhala friends–Yeshe Fuchs, Josje Pollmann, and Mieke Corts–took the initiative to generate this inspiring meeting. During a private chat in Hamburg, they enjoyed the feeling of being together 'just as friends in their golden age.' But on that occasion, they realized that the Shambhala sangha offers little opportunity to share the utter joy of having practiced such a long time, and to exchange thoughts with other about the wisdom of leading your life as an older practitioner.
'And so we thought it would be good to extend this idea to the larger European sangha'
The three friends decided to organise a weekend, and investigated who else would be interested in a life-celebrating event, a sheer exchange about how life is going, rather than a regular program.
Of course it was necessary to be somewhat selective, so as not to get an overwhelming number of participants. They invited 250 European Shambhala members over the age of 60, each having been a practitioner for more than 10 years.
After some research, for a location they found the Shambhala Centre of Cologne. This offered a perfect central place that people could travel to easily, with good and fairly inexpensive hostels in the area.
'The three of us spent a weekend to think about how to design this gathering. We didn't want to call it a program. We would not invite a specific teacher, or decide beforehand what subjects would be interesting. So we decided that the group would decide on topics of interest to exchange in an organic way.'
From the 250 invitations, 60 responded, wanting to join in the event. To that group of 60 the definite plans were sent, and about 25 of us finally came together. It was like a meeting of old friends and family.
We started the day with the Elixir of Life Sadhana practice, celebrating our long lives.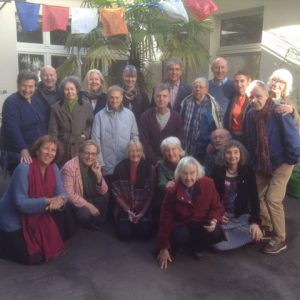 For the group meetings, the three friends improvised a system where everybody wrote their own topic of interest and put it in a basket. After that we picked out one of the topics, blindly and by chance. Groups where formed of three people, talking about their variety of topics, and from that selection the group decided on the most important topic. So, at the end we had four big topics:  Health Care; Sharing of Feelings; Economic Circumstances (housing, livelihood); and Bardo (fear of dying).
All the group's wisdom came out in a circle gathering, and we divided the main topics again in four larger groups with five to six people.
During lunchtime we took a walk with couples speaking their hearts out, and in the afternoon we would have the groups with the different topics. After tea time we did a lively personal storytelling circle, and then a festive dinner setup with dancing and celebration. One very joyful surprise was a session of traditional Bayern village dancing. On Sunday morning, we were harvesting the group discussions. There were fruitful ideas about alternative housing, especially the plans near Berlin for a big land centre where young and old, rich and poor people could work and live together, Shambhala practitioners as well as other people.
A very special Cologne staff made for delicious lunch and dinner tables. The richness of this atmosphere inspired us to share our strong sides (humor, inspiration, practical advice) as well as our vulnerability (feelings of fear and sadness) in great openness. We really enjoyed the whole happening, and we hope to do it again!
Post Tags:
celebration
,
Elders
,
Europe
,
Germany
,
Shambhala Europe
,
wisdom