Friday
International Programs, Sakyong and Family
Sakyong Mipham in Berlin, Germany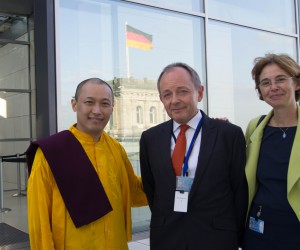 article and photos by Katja Aßmann
The Berlin sangha is happy to be welcoming Sakyong Mipham Rinpoche for the first time in Berlin, the capital of Germany. He arrived about 10 days ago and spent some time with his family and sightseeing after an intense summer when he taught various retreats and programs.
Today he was invited to visit the Bundestag, the German Parliament, a building in the heart of Berlin with a lot of history. Monika Jantsch, who works at the Bundestag and who is an active member of the Berlin sangha, had organized this tour. After security of our group we were guided to the old "Reichstag" where Nazi Germany, Russia and other politic players/parties have written history. Today it is the place where the German Bundestag, which stands at the center of the country's political life and is its supreme democratic organ of state, has its seat. At the same time the building holds much worth since it keeps and presents memories of its history.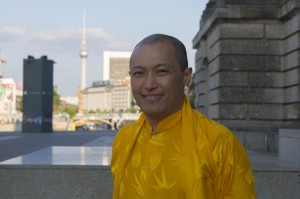 The Sakyong was also guided to the "Andachtsraum" which is a room of sanctuary for politicians when the discussions and decisions get tough. It is decorated by an artist who tried to include the openness for all religions and offer flexibility to the person who is seeking its quiet solitude. Thus one can exchange the christian cross placed on a square rock in the center of the room with one's own symbols.
The highlight was the visit of the roof terrace with its dome, where we enjoyed a great view over the city and a beautiful sunny time. Sakyong Mipham said one can definitely feel a strong energy of this very special place.
This coming weekend the Sakyong assisted by Acharya David Schneider, will guide a Shambhala Training Level 1: The Art of Being Human in Berlin. We expect about 250 visitors for this event.
Post Tags:
Berlin
,
Europe
,
Germany
,
meditation
,
Sakyong Mipham