Sunday
International Programs, Sakyong and Family
Basically Good Everywhere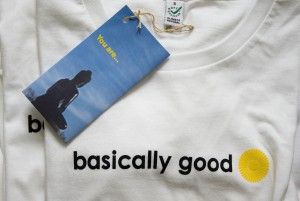 Sakyong Mipham Rinpoche teaches in Berlin
article and photos by Katja Aßmann
Preparations for this special night in Berlin were running hot: Setting up furniture, decorum, registration, book sales, and of course flower arrangements, which were done beautifully by the Kado Europe Team. A lot of volunteer helpers, all equipped with basically good t-shirts, were busy bees and welcomed visitors and participants from Berlin and all over Europe just in time.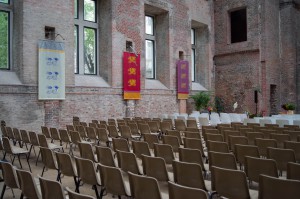 We were lucky to be able to host this event. The Sakyong's first public talk in Berlin was held in a magical place, the Church St. Elisabeth at the heart of Berlin.
When about 300 guests had gathered, the Sakyong greeted us and informed us that the topic of his talk would fit very well with how he had experienced Berlin during his stay. He would be talking about human society and transformation, and Berlin is definitely a city which is continuously in an active transformational phase and still digests a lot of history while developing for the future.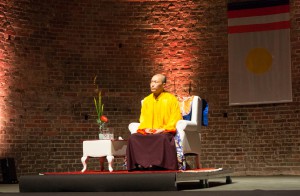 The Sakyong introduced the notion of basic goodness and emphasized the utterly basic questions: How does humanity regard itself? Have we as humanity given up on ourselves? Is humanity basically good? He explained that meditation is like an inner dialogue of how we think about ourselves and that this notion is crucial for the future of humanity.
"It has an effect if people think about themselves based on fear or aggression, or on strength and dignity. Kindness and compassion have to become something practical for us as human beings."
Furthermore, Rinpoche said, if we cannot relax because we feel inadequate, incomplete or guilty, then it becomes difficult to engage with life and society in a helpful way. When we have aggression in the inner, it is difficult to cultivate peace in the outer.
The Sakyong invited us all to spend some minutes of meditation and contemplate these fundamental questions and notions. Even if there is silence during meditation, there is important communication of our thoughts and emotions, he explained.
At the end he encouraged the audience to rise up and gain strength, even when things seem overwhelming.
The evening ended with a book signing and eventually some wine at the bar, meeting old and new friends. We are looking forward to the weekend program!
Post Tags:
Berlin
,
Sakyong Mipham