Saturday
Community Articles
Crowdfunding for Compassion
St. John's creates a legacy for long-time member Boyce Taylor
by Debbie McGee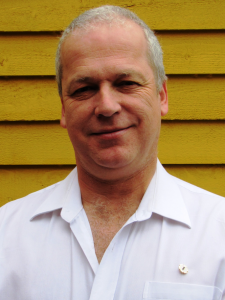 Boyce Taylor was 52 years-old when he died from a heart attack on April 22, 2014. He was cycling to a family gathering when he felt dizzy, and sat down to rest on the sidewalk. A kind passerby called an ambulance. Boyce passed away a few hours later.
A long-time member of the St. John's Shambhala Meditation Group, Boyce's sudden death left our sangha reeling. We had all just spent a week with Boyce during a retreat led by Acharya Moh Hardin. Boyce was our treasurer, and many of us had received emails from him that very day, which furthered our sense of disbelief. In spite of the shock, we managed to help Boyce's wife Rhonda organize a funeral service that honoured Boyce's Buddhist beliefs as well as met the needs of Boyce's extended family. We sat with his body for one day in the funeral home, and that night we held a Sukhavati, which was well-attended by Boyce's friends and neighbours and most of Rhonda and Boyce's family – including their three children (17, 15, and 7). Boyce was then cremated and the following day an all-faith service was held in the chapel of the funeral home.
As t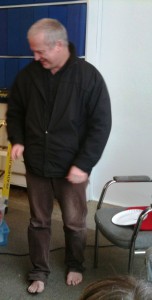 he months went by and the shock wore off, the sangha tried to think of a way to honour Boyce. He had such devotion, and was very hardworking and meticulous, but also exceptionally kind and patient.
Eventually, it was remembered that Sangyum Karen Lavin had been honoured after her death through the giving of an annual award in her name to a high school in Antigonish, Nova Scotia. We liked this idea very much. Boyce's wife and family were consulted, and gave consent. Our community was consulted, and also approved.
And so was born The Boyce Taylor Memorial Award for Compassionate Action.
The award will recognize genuine kindness and actions benefitting others, and will be given annually to a student graduating from Holy Heart of Mary High School in St. John's, the high school that Boyce's children attend.
The award will be accompanied by a $300.00 bursary, and is intended for a student who:
Displays compassion, kindness and respect towards others
Is concerned with fostering cooperation
Promotes diversity and an open-minded approach
Is courageous in working towards the elimination of conditions that cause pain to others.
It was challenging to find a way to crowdfund for the award in a way that did not cause confusion for sangha bookkeeping. Basically, we had to make sure that the donations did not flow through our bank account, but still give a charitable receipt to everyone who donated.
A solution was found through the non-profit Community Foundation of Newfoundland and Labrador (CFNL).  The St. John's Shambhala Meditation Group contracted with them to establish the Boyce Taylor Memorial Endowment Fund. Using Canada Helps, a non-profit, registered charity crowdfunding site, donations go directly into the Endowment Fund. Charitable receipts are issued immediately by Canada Helps (not Shambhala).  Canada Helps charges a 3.5% fee on each donation, which is below the industry standard.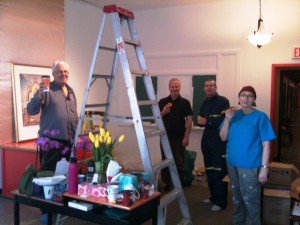 When the amount in the Fund reaches $10,000.00, the annual interest will be used for the award. Best of all, the CFNL will send a cheque for $300.00 directly to the school each year. The school's scholarship committee will select the students they think are eligible to receive the award, and Shambhala and Boyce's family can have input into the final choice if we wish to.  This smooth administration means that even after those of us who knew Boyce are gone, the award will continue. Students in this high school, and their parents and family at the graduation ceremonies, will be reminded each year that compassion is a value, and can be part of school life along with sports and academics. And Boyce and his warrior qualities will be honoured for many years to come.
As of this writing, we are very close to our goal. Only $1000.00 is needed to give an award to the next graduating class. If this story has inspired you, please use the following link to donate if you are able:  The Boyce Taylor Memorial Award for Compassionate Action
Ki Ki! So So!
Post Tags:
community
,
Compassionate Action
,
Warrior Tribute