Monday
Community Articles
At The Heart
By Ron Schultz
member and practitioner at the Los Angeles, CA sangha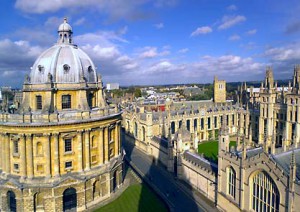 Finding the words that convey the opening of one's heart and the transformation of one's existence seems like a better task for a Gershwin or a Porter than a Schultz. But nonetheless, it is mine.
I never expected this to arise. I certainly knew who Archbishop Desmund Tutu was and what his accomplishments were, but I had never been in his presence prior to my recent trip to the Skoll World Forum at Oxford University. For those who don't know, the Skoll World Forum is something put on each year by Jeff Skoll, co-founder of eBay, who took his gazillions and created the Skoll Foundation for Social Entrepreneurship. Each year the foundation puts on a gathering of 800 invited delegates to come and spend three days networking and learning together.
Nonetheless, through the beneficence of a variety of benefactors, I arrived in Oxford from London's Paddington Station on the Great Western train, and returned three days later, quite different from before.

The second day of the conference featured a panel on Deep Leadership with the aforementioned Archbishop Desmund Tutu (Arch to his friends and colleagues), Paul Farmer, the extraordinary Doctor who has been doing his utmost to deliver on his promise to help eradicate malaria around the world. He began in Haiti and was the subject of Tracy Kidder's amazing book: Mountains Beyond Mountains. They were joined by Joe Madiath, a man of great humor and compassion who is the Executive Director of Gram Vikas, one of the largest NGOs in Orissa, India, and by Cecilia Fores-Oebanda whose NGO works to stop human sex-trafficking in the Philippines. There was not a single weak voice on the panel.
The discussion focused on how a leader who is dealing with the intense suffering of those they serve can avoid going off the deep-end themselves by their encounters. This is where the transformation began for me, and when my heart strings began to be tugged. Each panelist told amazing stories about how they found renewal and what kept them going. Arch, however, told a story about coming home after witnessing another day of incomprehensible atrocities inflicted on a majority population. He was completely distraught. He had barely walked in the door of his home before he threw himself on the floor crying and cursing God. "How could my God allow such suffering?", he moaned. The pain in his voice was palpable within the great pauses between each word. He then told of his wife finding him there and merely taking him in her arms. It was this simple act of love that confirmed with its gentleness that human values might still exist among such madness. No attempt was made to hide the sniffles rippling through the audience as we relived this moment with him.
Later that night, at the award ceremony and after the new Skoll Fellows were installed, Jeff Skoll awarded the Skoll Global Treasure Award to Archbishop Tutu. Arch accepted the award with gracious thank-yous, and in his slow deliberate style, spoke about his work. He told a story about a light bulb, whose bright light brought brilliance into the darkness, illuminating places that some might never have wanted to view. But, as he described it, if you remove the light bulb from its socket and place it next to the socket, no matter how hard the light bulb tries, it cannot illuminate itself. "I have been able to do what I do," he said, "because I have stood on the shoulders of others."
Then, with a characteristic rubbing of his hands, he grinned and said, "I know you are saying, 'Oh, what a nice man, and so humble.'" As he wagged his finger he shook his head and said, "Not so. My wife and I went to West Point and they gave me a hat. When I put it on my head it was too small. And my wife – had she been a good wife (pause, pause) – would have said, 'Oh look the hat is too small.' But she said, 'Oh look his head is too big!'"
At this point, Arch turned to those of us seated in the theater, and as he must have done on many other occasions, he began directly speaking to those in front of him. It was, in every sense of the word, a benediction. He held his hands out toward the assembled gathering of social entrepreneurs, all of whom do everything they can to shift intransigence when encountered, and he began validating each of us with his love. With appreciation and gratitude filling each syllable, his words resounded in each resonate pause. He was piercing us with his love. I had felt something like this before from Buddhist Rinpoches as they also go right for the heart, but this was speaking to me, directly to me. There were 800 others having the same experience, I'm sure, but it felt so individual. I could almost feel the oil being poured on my head. He was confirming my work and my life in a way in which there was nothing else my heart could do but open wider and wider. And then when he said to us all, "The work you are doing validates God," I was a goner. The tears began to flow down my cheeks, unchecked. Why should I try and stop them? In my world, he had just validated the basic goodness in all of us so expertly that there was a simultaneous experience of hearts opening throughout the packed auditorium. It was clear at that moment – apartheid didn't stand a chance before the love of this man.
At that moment, Peter Gabriel walked onto stage and sang his song to Steven Biko, the Arch's murdered colleague and friend. The dancing that spontaneously erupted, led by Arch himself, was overwhelming. The model of love danced before me, and the love filled me. It was not through knowledge that the transformation took place, but from the unhindered, unfiltered, fearless opening of my heart. It was an experience of simple open heart meeting the world.
As I walked back through Oxford, I crossed one of the picturesque, postcard canal bridges near the River Thames and called my wife Laura, who was starting her day in Los Angeles. When I heard her voice, I could hardly put two words together, the emotion and tears were so overpowering. The love spilled over and into the river below. I could hear her smiling, touched by my deep (Oh, Gershwins don't fail me now) and unstoppable love for the world I was given to hold, the world that I was now a resident of, and responsible member for. I remember hearing that Chogyam Trungpa called this "the tender heart of sadness," and I knew now what the phrase meant, in ways I had never before comprehended.
It was an extraordinary night. At the reception that followed, there were few, if any, who hadn't been touched by the love of Archibishop Desmond Tutu. We had spent hours intellectualizing every aspect of the work we were doing, and in a matter of phrases, he had driven right through it all and deep into all of our hearts. Was it a renewal? Most certainly, and it was unquestionably a renewed call to action. It was unequivocally a model of how to bring the heart to what we hold most dear. It was also a challenge; to bring down walls that wouldn't fall, to shift thinking that only resists, and to open our hearts with every breath we take.
Post Tags:
Chogyam Trungpa
,
community
,
social action