Friday
Community Articles
On the Map and On the Move
Tracking the Resounding of the Profound Treasury
by Carolyn Gimian
It starts in Boulder. It is early April 2013. The Profound Treasury of the Ocean of Dharma, only Volume One mind you, is being read hour after hour for three days at the Boulder Shambhala Center and at Naropa University. On April 4th, Judy Lief opens this resounding of the words of Chogyam Trungpa Rinpoche, reading the first chapter of the first of the three volumes. People are surprisingly moved. It's not just another version of the Vajradhatu Transcripts. No sirree, this is something else! It has legs. It has gravitas. It could make you cry. It does make people cry. Laughing and crying. Lots of laughter! Not just a few tears. New students, old students, reading reading. The power is surprising, for some reason.

Thanks be to Chogyam Trungpa Rinpoche for so much good dharma in the English language, the American vernacular. The pristine wisdom of his tradition made accessible. Thanks be to Judy Lief for all those years of compiling and brilliant editing, and to her able assistants, mainly Ellen Kearney and Derek Kolleeny. Thanks be to them as well. And thanks be to all the students who inspired Rinpoche to teach. Thanks be to all.
We don't make it through all of volume one in Boulder. Things intervene: guru yoga practice, the Sadhana of Mahamudra Feast, the Vajrayogini Feast – lots of celebrating, lots of carrying on. But a lot gets read, and it leads into a panel discussion at Naropa University, a panel to celebrate the Profound Treasury, a panel to celebrate its author Chogyam Trungpa Rinpoche, a panel to celebrate the editor, Judith Lief.
There are about 200 in the audience, many Naropa students and faculty, and many old Buddhists, and some new. The staff is wearing t-shirts that have Rinpoche's calligraphy of LOVE – in English – on them. It's a festive night. There's a lot of love in the air.
Sam Bercholz, the founder of Shambhala Publications, moderates and opens the panel. He tells us that Trungpa Rinpoche was not just another great Buddhist teacher. He was Padmasambhava, Guru Rinpoche, for the West. Johanna Demetrakas talks about getting to know the Vidyadhara in a whole new way, from making a film about his life. Judith Simmer Brown speaks about how the Profound Treasury can be viewed within the scholarly and practice traditions of Buddhism. Judy Lief describes cutting up the original transcripts into little pieces, before the era of computers, when she first started working on the project. Charles Lief, the President of Naropa, announces a scholarship fund in Chogyam Trungpa Rinpoche's name.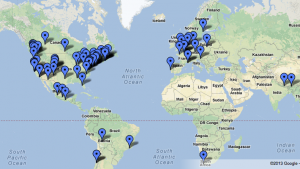 And so the Great Profound Treasury tour commences! Now off to the Rubin Museum in New York City, where Dzogchen Ponlop Rinpoche will be in conversation with Judy Lief and Ethan Nichtern on Sunday April 28th, moderated by Melvin McLeod. Then it's on to the Harvard Divinity School in Cambridge, Mass., where Nikko Odiseos will moderate a panel on April 30th, entitled "Saints, Scholars, and Provocateurs: Chogyam Trungpa and Buddhism in the 21st Century." The panelists there are Judith Lief, David I. Rome, Elizabeth Matthis Namgyel, and Mirabai Bush. And then the Profound Treasury Train comes to Halifax, Nova Scotia, for a panel on the Profound Treasury and Meditation, on May 3rd at the Halifax Shambhala Center.
And all the while, people are reading reading reading the Profound Treasury aloud. See the map with all the pins at: chogyamtrungpa.com/the-profound-treasury/a-read-a-thon/readings-map
All this good dharma for us to celebrate and share. Put a pin on the map or join us, if you can, for one of these events.
Post Tags:
Chogyam Trungpa
,
Naropa University
,
news
,
Profound Treasury
,
VCTR Tributes