Wednesday
Featured Stories
A Place to Be Free: Writing in True Notebooks
Project Pride, a program of the East Bay Community Recovery Project,  is a  residential substance abuse treatment program for incarcerated mothers of young children. Here, Sandy Miller writes about the True Notebooks class she started at  Project Pride after reading a book of the same name about a writing program in Los Angeles' Central Juvenile Hall.
Today's True Notebooks class was small: one of the women had to take her daughter to an appointment, and another got called in for one-on-one counseling. It's always that way at Project Pride. I never know quite what to expect when I show up for class each Wednesday. There are 40 women living here with their children, and that makes for a fair amount of chaos. 
Today our subject was laughter. I start class each week by reading something aloud, and then encourage the women to write whatever the reading inspires. As new women join the class, I tell them that the group is intended to be a place where they can express themselves freely, and that the only rule is that they be kind to each other. They get it.
Our first readings were from Finding Freedom, Writing from Death Row by Jarvis Jay Masters. Some of the women had heard about Jarvis in prison and were inspired by his personal transformation and his efforts to find peace on San Quentin's Death Row. After I read his story about his experience as a young boy hiding under the bed with his younger siblings and watching his father beat his mother, all of the women wrote and read to each other about violence they witnessed as children. They've written and shared about their scars, both physical and emotional. Sometimes, like today, the reading and the mood is much lighter, and many of the women have written poems to their children or their moms, or funny stories about their relationships or their first job.
Today was Monica's last True Notebooks class. She'll be leaving Project Pride this weekend after almost three years in the program. I will miss her a lot. She's been kind of a beacon for me and for the other women in the class. I wasn't at all sure what I was doing when I started the True Notebooks class a couple of years ago. I thought that the women needed a safe place to express their feelings, and hoped that a class where they could write freely and then share what they had written might be that. A few weeks after Monica joined the class, she asked me if True Notebooks would continue until her release in eighteen months. I saw that the class was her refuge, and assured her that we would continue. Last week she wrote thanking me for providing a place where she could be free in her own mind in any situation. If I've provided that, that's quite enough for me!
Next week, True Notebooks will continue on without Monica. She assured me that someone would be coming to take her place as teacher's pet. Since there won't be anyone left in the class from the time we read from Finding Freedom,  we can start again with that.
Author's Note: Everyone was okay with me taking pictures for this article, but I am careful not to show their faces. They are prisoners after all, and they will have enough to face when they get out without having their pictures all over the World Wide Web.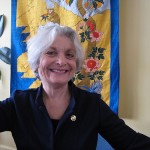 Sandy Miller is a retired attorney and mother of three. Sandy has been part of Berkeley Shambhala Center's efforts to extend the dharma to the women and children at Project Pride since 2005.
Post Tags:
Berkeley
,
prison
,
socially engaged
,
women