Monday
Mandala Projects
Congratulations, Biscuit!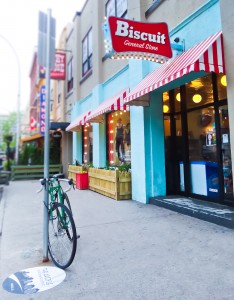 This autumn, Biscuit General Store was voted Best in Halifax for the best women's clothing store with a silver award for the best men's clothing store. Biscuit was founded and is owned by Shambhala's Director of the Office of Culture and Decorum, Sangyum Wendy Friedman. In this exclusive Shambhala Times interview, we learn a little more about Wendy's approach to business, and why she loves it so much.
photos by Benny Fong
"Biscuit has been open for 16 years, and the fact that people still find us relevant and interesting is very exciting." The way the staff works together is naturally influenced by Shambhala principles, and most of the people who work with Wendy tell her it is different from working for other retail industry places. "It's not just about trying to line my pockets. What keeps me interested is creating an environment where everyone feels welcome, supported and curious."

She couldn't do otherwise, she says.
"Work has to do with beauty. Beauty is a valuable part of Shambhala culture, and effects our state of mind." Wendy says that beauty touches our heart and creates a sense of openness.
In terms of clothing, Wendy has worked in the clothing industry for a long time in many different roles. She was inspired to open a store when she could directly see, as she put it, "The effect it can have on someone when you help them feel good about themselves and feel dignified and confident." She explained that clothing can help people enter situations with more confidence and strength. The right clothes can cheer someone up.
"People come in who have been through a difficult experience, and once they walk out they are standing up more straight and cheerful because they feel good about themselves. That's why I love it and find it inspiring, I've seen what that experience can do for somebody. I don't ever get tired of it!"

The staff at Biscuit is encouraged to roll up their sleeves and really help people. Wendy shared that her staff really love fashion, and are excited about the mission of the store. They understand what Biscuit cares about.
Wendy worked in the fashion industry for years, starting Biscuit in a tiny space with only $2,000 in her pocket. It started as a clothing store, but it has evolved over the years. The first big leap was that she felt she couldn't find affordable, interesting gifts or home decor in Halifax. She started looking around in the industry to find creative, whimsical, elegant gifts under $25, and that became Biscuit's mission. Wendy explained, "That price range is doable for most people, or even $10. It is possible to give a thoughtful, useful, interesting gift for $25 or less."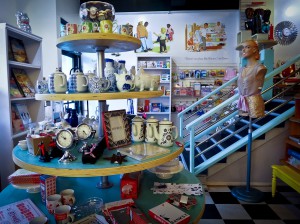 The response was great, and so the clothing store became Biscuit General Store to accommodate the expansion. "We can do anything at Biscuit! Lawn furniture! Table cloths! Glassware! Clothes! The main thrust is fashion, but we also sell cosmetics, accessories, shoes, gifts, children's books, and many other different categories." Biscuit General Store is a modern urban department store.
It turns out that the driving theme of the business is fun. "We wanted it to be a place that was fun and didn't take itself too seriously," Wendy explains. "The decor is lighthearted and that is our approach to how we work with customers. We serve free popcorn everyday and people are welcome to just come by and enjoy." Biscuit is a neighborhood place for anyone to come by and visit.
Wendy says she loves going to work everyday. And who wouldn't in that environment?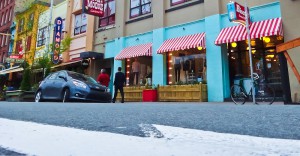 Why the name Biscuit? Apparently that story is asked so often that they've put it on the shopping bags. One day while sitting with a good friend and running through names, Wendy realized she didn't want anything pretentious or serious. She didn't like any of the ideas that came up, nothing was clicking. Then Wendy's friend said, "You should just name it what you were going to name the dog." Wendy says she always loved the name Biscuit, as she is from the deep south. "Biscuits are the staple of the deep south. It's a simple and down-to-earth name and I could visualize the logo written immediately. Besides, it was fun to say." She named the store Biscuit because she got the store before she got the dog.
What does the future look like for Biscuit? Well, it turns out Wendy is starting her own clothing line. The line will be sold in her store, and then be offered for sale in other stores. The clothing line will be styled by Wendy and she is already working with manufactures who they already buy from in Los Angeles. The plan is to start with a small collection and gradually roll it out to other stores. Biscuit will have products in their own store in 2013, and other stores by 2014. The name of the clothing line? Bonanza by Biscuit General Store.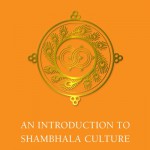 In other news, Wendy has been busy putting together a series of little books about Shambhala Culture and Decorum. The first book has been published: An Introduction to Shambhala Culture (and can be found online by clicking here)
Coming soon is a book about Shambhala Households, looking at how to bring Shambhala Culture and Decorum into the home. More will be rolling out in the coming year, so stay tuned!
Congratulations, Biscuit! And well done, Wendy!
~~
Visit Biscuit General Store online for more information: www.biscuitgeneralstore.com
Post Tags:
Biscuit
,
sangha news
,
Wendy Friedman