Saturday
Opinion Pieces
Generosity: the mother of all blessings
In the conventional world, generosity is the way that organizations express goodness. The Rotary Club, Kiwanis Club and other such groups repeatedly raise large sums of money and donate it to non-profits, schools and civic projects. They raffle off classic cars, vacations in Europe and other such worldly treasures. While such organizations provide an opportunity for convivial socializing and business networking over a hot meal and drinks, their acts of generosity yield deeper satisfaction to their membership.
Year after year vast sums of money are returned to the community in ways that help others. Playgrounds are repaired, scholarships are endowed, people are fed and children made safe. So greatly appreciated are these material efforts that such organizations are treasured by the community – recognized, honored and embraced for their generosity. Such civic bodies do not gather around faith or spiritual practice, nor are their efforts the result of profound instruction. Their giving is the natural expression of the basic sanity which rests within our shared humanity.
As Shambhala Buddhists, we are taught about generosity (the first paramita of the bodhisattva path) at all its levels. Generosity, we believe, is the source of all blessings, yet as a sangha our generosity is mostly directed inwards to our centers, the mandala and our teachers. To be sure, the communities in which we sit benefit from our internal generosity through the availability of our shrine rooms and the public programs we offer. When it comes to the contribution of direct labor or money, however, the outside community receives too little from us. Accordingly, we do not fully enjoy its warm embrace.
The teachings advise us to expect no applause – to give as no giver – and as instruction this is wisdom, indeed. It is through practice in action, though, that we earn the merit of giving, not simply by contemplating instructions. Unless our Shambhala centers turn generosity outwards, like a shaded flower hidden from sunlight our beauty will go largely unnoticed, and we may wither. Our individual and collective financial problems will not be solved by holding on tighter; as the Sakyong teaches, they will only recede through our letting go and giving more.
Even giving something as basic as food is a fine beginning. Every sangha member can easily afford to bring canned goods to their center at every visit, or some other non-perishable item from our shelves. Collectively we throw away leftovers worth many hundreds of dollars each week; certainly we can offer a can of beans in compensation. Money helps others too, but if a dollar is too hard to part with, we can start with a box of spaghetti instead. We can donate the food monthly to the elderly or a meals-on-wheels program feeding the needy; in this simple way we can be generous. In fact, we have recently initiated a regional food collection and distribution program coordinated by Northern California Shambhala.
There are so many everyday ways to be generous; food, transportation, reading to seniors, tutoring a child. As a Sangha we must collectively begin to give outwards, if necessary starting in these basic ways. At times we in Shambhala think too large; our aspirations are so great for an enlightened society we may lose sight of the daily suffering right around us. We have wonderful teachings to share with others, yet in the matter of generosity to the outside community, the conventional world is our teacher.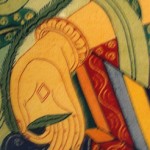 Post Tags:
community
,
generosity
,
opinion
,
paramita