Friday
Mandala Projects
Prison Dharma Network
By Kate Casavecchia Crisp
Prison Dharma Network (PDN) was founded in 1989 by longtime Shambhala community member Fleet Maull, who was then a federal prisoner serving a 14-year sentence for drug trafficking. Since its founding, PDN's Books Behind Bars program has provided books on meditation and contemplative spirituality to over 25,000 prisoners in more than 900 prisons around the world.
Prison Dharma Network Executive Director is Shambhala member Kate Crisp. Shanly Weber, Development Director, is also a Shambhalian.
Network and Community
Our network now includes over 75 member organizations and prison dharma groups of various faiths and over 2,500 individual members and supporters, many of whom are active prison dharma volunteers. Our social networking site at www.prisondharmanetwork.net to date has over 850 individuals engaged online in discussions and blogging about prison dharma.
Prison Dharma Press
Prison Dharma Network also publishes books through its Prison Dharma Press. To date titles include: Sitting Inside: Buddhist Practice in America's Prisons by Kobai Whitney, Dharma in Hell: Prison Writings of Fleet Maull, and Path of Freedom Workbook by Kate Crisp.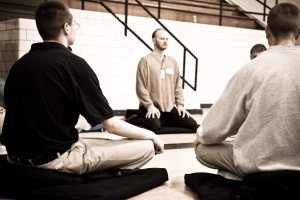 Dharma Mentor Program
We have connected hundreds of prisoners with pen pal mentors and always have a list of prisoners seeking correspondent mentors; please write to us for information.
Path of Freedom
PDN also provides integral transformative justice trainings for prison dharma volunteers and prison staff.  We are leading the way in criminal justice innovation with our new trademarked Path of Freedom program – a mindfulness-based, cognitive behavioral approach to rehabilitation and personal transformation for incarcerated youth and adults. We also provide training and internship programs for Path of Freedom facilitators.
Path of Freedom (POF) is a program we have developed for incarcerated youth and youth at risk based on the Peacemaker Institute's Integral Peacemaker Certificate Training program offered to the public.
POF program participants learn mindfulness-awareness meditation, body-mind synchronization, nonviolent communication, conflict resolution, and leadership skills, all grounded in the experience and context of mindfulness-awareness meditation and contemplative spirituality. The program is presented in a nonsectarian manner and is open to participants of any faith and/or those who do not identify with a particular faith tradition. Participants develop greater self-awareness, improved impulse control, greater social awareness, and relationship, communication and leadership skills that will give them a new vision for their lives and how they could contribute to their communities.
The class is taught by experienced and certified meditation instructors, who have also been trained and interned in our Peacemaker Certification program and are skilled in facilitating groups in nonviolent communication, conflict resolution, and wisdom-based forms of leadership.
Path of Freedom Apprenticeship and other programs
For information on our two-year apprenticeship program and other programs, please visit our website here.
Terry B., a prisoner from Georgia, USA writes:
"I have come to realize what caused me to be here. We inmates love to blame the other guy, the system, anything but ourselves. I've never considered myself a criminal, but 'no-one messed with what was mine' attitude was my downfall, allowing passion to rule my life. It has taken a few years of imprisonment for me to come to the realization of my situation. I could do the time or let the time do me! I have chosen to benefit from this enforced idleness. The main adjustment I have to make is my 'stinking thinking', allowing negative thoughts to control my life…Now after two years of serious practicing and studying, I find my life more content and peaceful. I still have problems with my concentration when I meditate, but now I understand what I'm trying to achieve. My personal wants and desires have greatly decreased. My appreciation for all the things I'm giving mean more to me. Yes—even the prison food is better because as I give gratitude to all the people who worked to bring me this food, I find happiness. Can a prisoner live a passive life in prison? I'm not sure, but I'm learning to live a peaceful one!"
Post Tags:
engaged
,
Fleet Maull
,
prison