Tuesday
Scene and Heard
Buddhadharma: The Practitioner's Quarterly Invites Your Submissions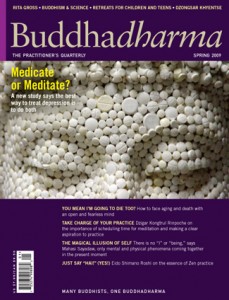 The Shambhala Sun's sister publication, Buddhadharma, is introducing two new columns and invites readers to send in their submissions.
New Buddhist Obituary Column
Buddhadharma's new obituary column features short, personal essays remembering the life and death of individuals who had a strong connection to the dharma. We invite you to send an essay about a friend, family member, sangha member, teacher or student who recently passed away (2008 or 2009). Tell us about the person's life and connection to the dharma, and perhaps how he or she worked with the dying process in light of their Buddhist training.  The essays can range from 350 to 700 words.
Do you know an "Everyday Bodhisattva"?
Buddhadharma is also introducing a new column called "Everyday Bodhisattvas" that focuses on the unsung heroes in our Buddhist communities. The point of this column is to highlight people you don't normally hear about who are making a real difference, whether it's close to home or half way around the world. We invite you to tell us about an everyday bodhisattva that you know. Or, if you're doing valuable work in the service of others, tell us in your own words. These essays are approximately 700 words.
Email your submissions to either of these new sections to Tynette Deveaux at [email protected]. Please include a photograph of the everyday bodhisattva or the person who passed away. Submissions received by March 16 will be considered for the upcoming (Summer) issue.
Post Tags:
Buddhadharma
,
magazine