Tuesday
Sakyong and Family
News from the Office of the Kalapa Court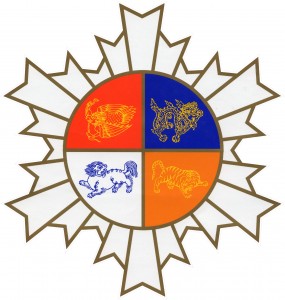 Welcome to News from the Office of the Kalapa Court.
The Sakyong's Shambhala Day address and Sakyong Wangmo's address are now available on line as transcriptions and audio recordings. These are also available in Spanish, along with President Reoch's remarks. In this year's Shambhala Day address, the Sakyong called on Shambhalians everywhere to raise their collective lungta in the face of global fear and uncertainty. "We hold in our hands the ability to help the world," he said, "and that is more obvious now than ever before."
After their return from Orissa, India where they received the Rinchen Terdzo from His Eminence Namkha Drimed Rinpoche, the Sakyong and Sakyong Wangmo spent time in Cologne, Germany and New York, before returning to Halifax. The Sakyong also travelled and taught in Boulder, Atlanta and the Baltimore/ Washington Shambhala communities. The Sakyong and Sakyong Wangmo retreated at Kalapa Valley in Nova Scotia, and then visited with the Gampo Abbey and Halifax communities. They are just completing the first Scorpion Seal Assembly at Karme Choling and are in excellent health and spirits.
Some highlights of the Sakyong's schedule for 2009 follow:
The Sakyong will be leading two new programs, Sangha Retreats, in which he will practice and teach students for a week at both Shambhala Mountain Center (with Acharya Pema Chodron July 17-23) and Karme Choling (October 16-24.) These programs will allow students who have not yet attended seminary, as well as senior students, to connect with the Sakyong in a practice environment.
The Sakyong will offer three more Scorpion Seal Assemblies to advanced student to prepare them to properly enter into this retreat: 2-16 July at Shambhala Mountain Center, 25 August – 1 September at Dechen Choling and 13 – 21 September at Dorje Denma Ling. All except the Shambhala Mountain Center programs have waiting lists.
Vajrayana Seminary will take place with the Sakyong at Dechen Choling 1-23 August, along with a concurrent Garchen for tantrikas.
The Sakyong's Harvest of Peace address to the international mandala from Dorje Denma Ling will take place 20 September at 2pm Atlantic Standard Time.
The Sakyong will be offering the Rigden abhisheka for qualified students 6-12 September at Dorje Denma Ling.
A Vajrakilaya and a Vajrayogini abhisheka will likely be offered at Karme Choling in October. Details will be announced.
Following his birthday, 15 November, the Sakyong will begin a year-long retreat. This 48th year is an astrologically auspicious year for the Sakyong to be on retreat. The Sakyong has given his blessing for a Varjayana Seminary to be held in the summer of 2010 at Shambhala Mountain Center, led by acharyas. He will leave his year-long retreat to give transmission for this.
This site is updated by the Sakyong's Executive Secretary, David Brown. Please direct any queries to David at [email protected]. An interview with David may be seen here.
Post Tags:
Sakyong Mipham