Tuesday
Opinion Pieces
Born in Shambhala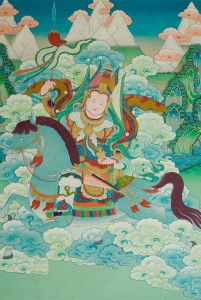 To all babies born or about to be born in our sangha: welcome!
We know how easily you are imprinted and impressed by whatever we present to you in your early months and years. Once born in this world, depending on circumstance, chances are you will face mostly songs of hatred, advertisements or meaningless fantasies. Since you were attracted to the Shambhala sangha, we must provide you with a more meaningful welcome. All human beings may pass this way again one day, after all.
So, what do we have for you? Real Shambhala nursery rhymes (not just "London Bridge is falling down…"), or passages from our beloved Gesar Epic in adapted format, just for you, dear ones?
Let's see what manene [Tibetan: auntie] Carolyn Gimian says about this: "I don't know of any nursery rhymes such as you describe. I think it would be wonderful and certainly something that the Vidyadhara would have loved. Perhaps the Sakyong and Khandro Tseyang will work on that kind of thing if they have children soon. Gesar Epic stories are also a great idea; something I suppose we all would love."
Yes, most of us are just mavericks from the setting sun world. We were raised with a lot of mental pooh-pooh and are not yet properly prepared for your arrival. At the moment, we can sing KI KI and SO SO around, just to help you to gom [Tibetan: to become familiar] with the sounds. If our Sakyong composes songs for you, we might next enjoy lectures on how to translate nursery rhymes by Uncle Larry and other experts—and we would love it, no doubt!
For now, let's just think back: had we not heard certain rare bedtime stories, fairy tales—in short, been nurtured with seeds of the desire to see beyond the five senses—would we ever have aspired to step out of the materialistic hallucination? We need something like this for you at the very beginning of your life, but something better than what we had.
So here is a prayer: Bards of Shambhala, please think of the fresh minds of our newborns. If there is nobody who can still fathom this pristine dream, let us supplicate our Sakyong: may he inspire us, may he help us, and push us further.
You, precious and tender roots of enlightened society, are worth a few inspired and simple songs, aren't you?
Post Tags:
Children
,
Family
,
Gesar
,
spring equinox