Thursday
California, Arizona, Regional Announcements
The Mind and Heart of the Dalai Lama, San Francisco on April 7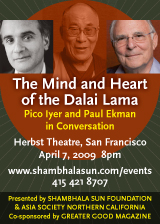 For millions of people around the world, His Holiness the Dalai Lama is a symbol of human kindness and wisdom. Is the true nature of the human heart and mind basically good, as Buddhist philosophy suggests, and if so, why do we so often bring suffering to ourselves and others? What can we learn from the Dalai Lama's own path of training and spiritual practice about how we can discover our own kindness and wisdom?
The Shambhala Sun Foundation presents, in conjunction with The Asia Society Northern California…
"The Mind and Heart of the Dalai Lama: A conversation with Pico Iyer and Paul Ekman"
at the Herbst Theatre in San Francisco on April 7 at 8 p.m. $20
Pico Iyer is a longtime friend and observer of His Holiness the Dalai Lama and author of The Open Road: The Global Journey of the Fourteenth Dalai Lama. Psychologist Paul Ekman is co-author with the Dalai Lama of Emotional Awareness: Overcoming Obstacles to Psychological Balance and Compassion. These two great authors, thinkers, and observers of the Dalai Lama will meet each other for the first time in this special evening of readings and conversation hosted by the Editor-In-Chief of the Shambhala Sun, Melvin McLeod. We are pleased to report that Richard Blum, board member of our co-host (Asia Society Northern California) will attend and make the introductory remarks.
For more information visit the Shambhala Sun Events page…
To buy tickets visit the Herbst Theatre website…
Post Tags:
Paul Ekman
,
Pico Iyer
,
Shambhala Sun