Thursday
Opinion Pieces
The Evolution of an American Buddhist Lineage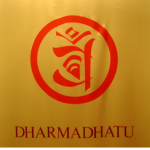 By Waylon H. Lewis
It may well be ironic, in a community founded upon the notion of impermanence—a community formed by Chogyam Trungpa Rinpoche, the rug-pulling, cocoon-popping pioneer who first succeeded in making the genuine Buddhadharma fully accessible to the modern West—that we are still so excited, and upset, by change.
For change, we know, is the only constant.
You want to talk about change? Trungpa Rinpoche, in 17 years, created something very much like a kingdom. Just when Rinpoche was really building this wonderful Buddhist community, he discovered the Shambhala teachings, including that of the Rigden and the primordial Ashe—to the consternation of many of his students. In translating his Tibetan Buddhism into our Western way of life, he promulgated the Dorje Kasung (to the consternation of many of this students), the Dharma Arts including promulgated Kyudo, Miksang, Ikebana and Mudra theater and poetry. He designed a new, Western/Japanese/Tibetan Buddhist shrine, encouraged his early hippie students to tame their hair and dress like bankers. He founded the Vajradhatu Seminary (where he prepared Western students to receive the Vajrayana teachings for the first time). He formed the deleks (designed to further communication within an ever-growing sangha), as well as groups for businesspeople, for those dealing with addiction, and for the mediation of disputes, including divorce. He founded a preschool, Alaya; a middle and high school, Vidya (forebear to the Shambhala School in Halifax); the first Buddhist college in America, Naropa; and nearly 150 meditation centers, both rural and urban, including the Boulder Shambhala Center, Shambhala Mountain, and Karme Choling. In his final coup de grace, he asked many of his students to move from the liberal, hip, affluent Boulder, Colorado to the traditional, ocean-bound, relatively poor Canadian city of Halifax.
And in the 17 years since his death, time has not stood still. When I came of age, having completed the 16-year-old Rites of Passage with Will Ryken and Mitchell Levy, the kingdom in which I had been raised was falling apart…
Read the rest of the article on www.elephantjournal.com. Shown here with permission.
Post Tags:
elephant journal
,
Waylon Lewis