Tuesday
Scene and Heard
Shambhala Shows Up on Huffington Post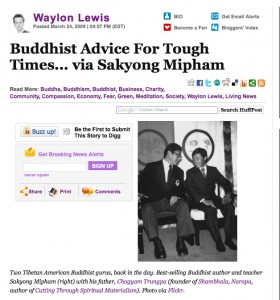 Waylon Lewis, a second generation Shambhala Buddhist or "Dharma Brat," is the founder of elephant journal and elevision, an online video talk show that has garnered 200,000 views in its first year. A self-described "passionate environmentalist, 365-day bike commuter, mediocre climber and lazy yogi", Waylon is working to become the Jon Stewart of the next greeneration.
He is now a regular contributor to The Huffington Post, and has granted permission for us to re-post the following entry, Buddhist Advice for Tough Times…via Sakyong Mipham.
I grew up in an American Buddhist community, now called Shambhala. Instead of playing little league (which I did, too) I grew up practicing kyudo, ikebana, attending Buddhist seminaries at Shambhala Mountain Center and serving as sergeant major at Shambhala Sun Summer Camps (kinda the Buddhist version of Boy and Girl Scouts). Basically, my world was centered around a meditation-happy community whose aim it was to achieve, then export, inner peace. Converting people? Nah, that's for theists. As the Dalai Lama says, Stick to your own tradition, begin what you start. Our aim, rather, was simply to work with other similarly-inspired communities in creating enlightened society.
And so, in these days when our news is filled with the karmic results of our Greed is Good ways – AIG, Merril Lynch, Madoff and Ponzi schemes…with climate change, pine beetles and bust mortgages…with wars abroad and obesity, drugs and depression at home…I personally find it helpful to turn back to my Buddhist tradition.
Wondering what Buddhism might have to say about these "dark ages," I found this pithy talk by my Buddhist teacher, best-selling author (and marathon-er) Sakyong Miphm. May it be of benefit!
Click here to read the rest of the article, which includes several videos of Sakyong Mipham Rinpoche.
Post Tags:
Shambhala in the News
,
Waylon Lewis