Sunday
Scene and Heard
Celebrating the Return!
Announcing the return of Dilgo Khyentse Rinpoche to America…
Celebrating the Return! is the first visit of Khyentse Yangsi Rinpoche, the reincarnation of Kyabje Dilgo Khyentse Rinpoche, to America. The visit is scheduled for the summer of 2010 and sponsored by Shechen, member of the Dilgo Khyentse Fellowship, and Mangala Shri Bhuti, the sangha of Dzigar Kongtrul Rinpoche.
Dilgo Khyentse Rinpoche first visited America in 1976 at the invitation of Chogyam Trungpa Rinpoche.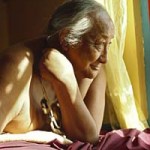 Dilgo Khyentse Rinpoche was one of the great meditation masters of meditation of the 20th century. He first met Chogyam Trungpa Rinpoche while in Tibet and visited America at his invitation in the 1976. After the parinirvana of Chogyam Trungpa Rinpoche, Dilgo Khyentse Rinpoche played an important role for the Shambhala community, providing guidance and serving as the teacher of Sakyong Mipham. His biography, Brilliant Moon, was recently published by Shambhala Publications.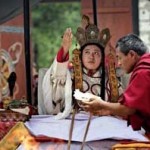 Khyentse Yangsi Rinpoche was born in Nepal on June 30,1993, the son of Tsikey Chogling Rinpoche (himself the son of Tulku Ugyen Rinpoche and reincaration of Chogyur Lingpa) and Dechen Paldron. His enthronement took place at Shechen Monastery in Nepal in December 1996, an event attended by many in the Shambhala community. Currently, Khyentse Yangsi Rinpoche studies in Bhutan under the guidance of Rabjam Rinpoche. Read his biography.
Overview of the 2010 tour from the Celebrating the Return! website:
Overview of the Tour, Celebrate the Return!

Devotion and appreciation provide the golden thread that weaves together this series of events celebrating the life, work and continuing lineage of Dilgo Khyentse Rinpoche. For Khyentse Rinpoche's disciples Celebrating the Return! provides an occasion to revive and strengthen their devotion and confidence. For many others it offers an opportunity to enter the path of authentic dharma. Celebrating the Return! formally introduces Khyentse Yangsi Rinpoche to the West as he begins to take up the mantle of his predecessor's work for the benefit of beings.

Three Locations: Vermont, New York, and Colorado

Events in Vermont, New York and Colorado will follow a similar program, including talks by Shechen Rabjam Rinpoche, Dzigar Kongtrul Rinpoche, and Matthieu Ricard about the former Dilgo Khyentse Rinpoche; an empowerment and teaching with Khyentse Yangsi Rinpoche; a celebratory tsok, movie screening, slide show, and more. Detailed event information and the date of ticket sales will all become available in the coming months.
Visit the Celebrating the Return! website for more information.
Join the event mailing list to stay informed as details emerge.
Post Tags:
celebrating the return!
,
Dilgo Khyentse
,
Khyentse Yangsi
,
Mangala Shri Bhuti
,
Shechen