Wednesday
Community Articles
Pride of Place in Nova Scotia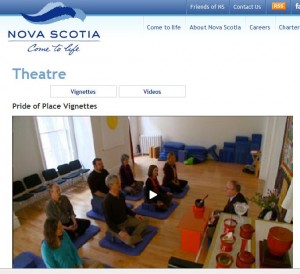 Most of us in the Shambhala community are aware of the special relationship between Nova Scotia and Chogyam Trungpa Rinpoche's vision for creating enlightened society. Here in the heart of Shambhala, thousands of people have attended programs and learned to meditate. Many have benefited from services run by community members and shopped at sangha-run businesses.
If some of you are still wondering "why Nova Scotia" perhaps you should watch a commercial, currently airing on local network cable featuring Warrior General Marty Janowitz, as well as other Shambhalians. It is part of a new initiative showcasing a cross section of Nova Scotians and the richness we have to offer, as a series of vignettes titled "Pride of Place."
If you want to know more about our great province, you might want to have a look at the other videos in the series too. They give some sense of the beautiful and earthy quality of life that can be experienced here.
Visit Nova Scotia: Pride of Place Vignettes and scroll down for the video, titled Meditating on the Nova Scotia Advantage.
Post Tags: