Sunday
Mandala Projects, Netherlands
The Gesar Fund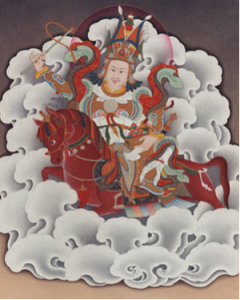 Surmang Europe Foundation Becomes Gesar Fund
The "Gesar Fund" is a new name for the European foundation within the Shambhala Mandala that supports medical and educational projects in Tibetan areas. We recently broadened our activities beyond Surmang to Kham and Golok and extended them beyond just health care to include education.
We have offered our services to Sakyong Mipham Rinpoche in choosing our projects in the area of health care and education in Kham and Golok. This is due to the connection of Sakyong Mipham and Khandro Tseyang with – and responsibility for – people in Kham and Golok.
In order to express our connection to the Shambhala mandala, we chose a new name for our foundation: Gesar Fund. This name reflects the Shambhala view of taking care of physical and social well being as part of creating enlightened society. We are pleased to announce two new projects for which we are fundraising.
"For many years, the Tibetan community in the Surmang area has been helped and supported by members of Shambhala and others living in Europe. This was done in collaboration with the Surmang Foundation based in China. These activities have now been grouped into the Gesar Fund, registered in the Netherlands. The Fund aspires to grow into a strong organization that can extend its activities beyond Surmang to include support for people in the regions of Kham and Golok. I very much welcome this development and I would like to encourage people of good heart to contribute generously to these projects that will be so meaningful to the Tibetans living there."

– Sakyong Mipham Rinpoche
Education in Surmang
We are funding a small educational project in Surmang through the Konchok Foundation with the help of Khenpo Tsering. We currently offer a hundred young children an education that they otherwise would not be able to receive. We are planning to develop this project further by improving the material and physical conditions of the students at school.
Health Care in Kham
We also initiated an extensive health care project in Kham. Certain areas close to Yushu (Jekundo) are notorious for a high percentage of tuberculosis. It is mainly the monks in remote monasteries and the nomads who suffer from this, often without knowing. They infect others who occasionally go to the cities and spread the disease there. The people in the cities have the possibility of going to a clinic but for the nomads and monks there is no health care nearby.
Our project, carried out in cooperation with doctors of the Health Department of Chenduo County, consists of buying a vehicle with an X-ray machine and offer its use to the Health departments' hospital that specializes in infectious diseases. Last month we joyfully and ceremoniously signed a contract (designed by our Sangha member and international lawyer Jason Newman and negotiated and translated into Chinese by Mr. Nyima Kunga, the son-in-law of Acharya Han de Wit) with this Department.
The key points of this contract are that four specialist doctors will go with this vehicle to all the remote townships in Chenduo County in order to test and treat the people for free. The Health Department will provide the doctors and medicines for free. The Gesar Fund will provide a small autobus with X-Ray machine and other means to test for tuberculosis. In that way the nomad population and the people in remote monasteries can be reached and freed from this disease. In addition, the doctors will provide education on how to prevent infecting others and about hygiene in general. The contract specifies that we will work together for a period of 5 years. We as well as our Tibetan doctors are very enthusiastic about the project and also about our working together in this way!
We very much hope the Shambhala sangha will also be inspired to support these two projects in these economically difficult times. For further information about the budgets for these two projects, please email our current president, Mr. Eric Elbers ([email protected]). Whoever feels inspired to contribute to our projects, please send your donation to:
The ING Bank
Account 4391534
Stichting Gesar Fund
Koppestokstraat 63
2014 AN Haarlem
The Netherlands
IBAN-code: NL31 PSTB 0004 3915 34
Swift/BIC-code: PSTBNL21
Post Tags:
Gesar Fund
,
Golok
,
Kham
,
Surmang