Tuesday
Featured Stories
Making Life Worth Living
By Alice Haspray
Several years ago I went to Sydney, Cape Breton in Nova Scotia to teach a Level One Shambhala weekend. Sydney is a harbor town and a coal-mining town. It is a place suffused with the beauty of ocean and forest and a place where suffering and tears can overwhelm in each moment. There isn't a lot of money in Sydney.
During lunch, I sat with Cliff, who had been a coal miner for many years. He is short and strong with a big, powerful neck, broad shoulders, and hands that know what hard work is. He was wearing his Level Five Great Eastern Sun pin and assisting me with Level One. As we sat together at lunch and chatted, for no particular reason I asked him if his wife worked. He said, "Oh no, we made a deal long ago that I'd make a living, and she'd make life worth living." For me, there is no better way to say what the Sakyong Wangmo does. The Sakyong Wangmo creates and radiates an atmosphere where we can feel that our individual lives and our collective lives in Shambhala and the world are lives worth living. Both Sakyong Wangmos have given that gift to me—each in their unique way.
Lady Diana Mukpo
When I first met the Druk Sakyong Wangmo in 1971, I knew her simply as Diana. My early memory of her is more about the sounds of that meeting than the visual contact. Rinpoche and Diana were staying in an apartment in Berkeley, California. One afternoon while I was having the highly sought after "interview" with Trungpa (as many called him then), I heard the repeated honking of a car horn. Then I heard Diana's voice calling and then calling more loudly. I continued talking with Rinpoche, though Rinpoche was now looking over his shoulder toward the window and Diana's voice. Finally, up the stairs came Diana struggling with bags of diapers and groceries. No one—not one of Rinpoche's students—had gone to help her with the baby and all the bags of groceries. Taggie, of course, was a very young baby then.
Right from that first moment of meeting her, from my vantage point, the trajectory of Lady Diana's life as Sakyong Wangmo has been one of pure lungta. As she said at Kalapa Assembly in 1981, "When a rider is very good with a horse, the rider is actually able to take the raw energy that the horse has and feel it. That is, in itself, actually lungta, unadulterated lungta." Lady Diana is very good with a horse, and very good at riding the energy of the phenomenal world. That is my experience of her as Sakyong Wangmo. Every situation of her life with the Druk Sakyong and each moment since his passing—has become the spark of further windhorse for her. As she also said in 1981, "Then you are able to transmute an ordinary situation into something that is still ordinary but very powerful." That statement embodies her gift to us as Sakyong Wangmo and now as the Druk Sakyong Wangmo—Dragon Earth Protector Lady. That's what she does. She brings all the chaos and all the joy of her life to her path and continues to show us that we can do that as well. She protects us by showing us that windhorse is right there in each moment. For me, that is how the Druk Sakyong Wangmo harvests true peace beyond personal fear.
Khandro Tseyang
I first glimpsed Khandro Tseyang as she arrived in a motorcade traveling slowly through the rain at Shambhala Mountain Center in 2005. When the cars stopped, I saw the hems of several brocade chubas and accompanying high-heeled sandals emerge as the car doors opened. I didn't even know which beautiful sandals and feet were hers. Then she disappeared inside—out of the rain. Since then Khandro Tseyang has greeted me in many blessing lines, and talks, and abishekas. Each time, despite my habitual cynicism, I feel that when she looks at me and says, "It's so good to see you," she means it. I feel better in that moment. I feel alive in my life.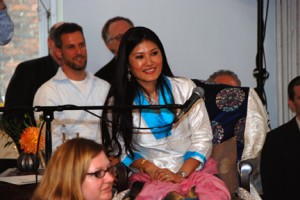 In Halifax this past April, Sakyong Wangmo Khandro Tseyang accepted an invitation to teach—but she said that she wanted to practice with us first to deepen our connections. We practiced the Yeshe Tsogyal sadhana that her father His Eminence Namkai Drimed received as a terma. She grew up listening to stories of Yeshe Tsogyal, and her grandmother was a highly realized practitioner. Khandro Tseyang talked to us about the Ripa family's strong lineage of female practitioners, and she shared her deep connection to Yeshe Tsogyal. She said that Yeshe Tsogyal was selflessly dedicated to Guru Rinpoche, that she was a great listener, a great practitioner, that she put the teachings into practice, and thus she gained accomplishments. She made it sound so simple! It was Yeshe Tsogyal's great listening that struck me most about what Khandro Tseyang said—because that is also what I notice about Khandro Tseyang's presence in Shambhala. She really listens, and this helps us feel included. Khandro Tseyang said that because Yeshe Tsogyal was so good at listening, it made it easier for her to help sentient beings. That quality of being able to help is also what I feel from Khandro Tseyang.
In Court Vision and Practice, the Druk Sakyong writes about the Sakyong Wangmo principle and says: "The nation might be in its glory, with a powerful Sakyong, crisp and confident ministers, and enlightened subjects, but without the Sakyong Wangmo it would still have the flavour of being just a group of individuals put together. When a kingdom is ruled by a group of men, misunderstandings easily arise."
Again, like Cliff from Cape Breton said—she makes life worth living. The Sakyong Wangmo makes life worth living in Shambhala.
The Druk Sakyong talks about three key qualities of the Sakyong Wangmo that bring harmony to the Kingdom of Shambhala. The Sakyong Wangmo harvests peace in the kingdom, displays true sophistication, and inspires genuine communication. Each time I have been in the presence of Khandro Tseyang I feel these qualities in her—not abstractly, but in real and ordinary ways. They are expressions of her natural instincts, and she manifests the culture of basic goodness. At the Blossoming of the Sun ceremony, Lady Diana said of Khandro Tseyang that she has "a heart of unfiltered basic goodness."
There is much diversity of opinion about everything in Shambhala. We have many different practices, different histories, and we study with many different teachers. What binds us? The Druk Sakyong offers this in Court Vision: "Just as water binds yeast and flour together to make bread, the Sakyong Wangmo will bind the disparate elements of the kingdom together to create a spirit of warriorship."
My deep aspiration is that the Sakyong Wangmo Khandro Tseyang continues her graceful and joyous journey with us for a long, long time—radiating and reflecting the basic goodness in all of us. May she bind our aspirations of basic goodness together like a clear, flowing river.
___________________________________
Alice Haspray has been practicing meditation since 1967. She began as a student of Zen Buddhism with Shunryu Suzuki Roshi (author of Zen Mind, Beginner's Mind). After Suzuki Roshi's death in 1971 she became a student of Chögyam Trungpa Rinpoche, studying closely with him until his death in 1987. She continues now as a student of his son Sakyong Mipham Rinpoche and also of Jetsun Khandro Rinpoche.

Alice has been teaching about meditation for more than thirty-five years—teaching both Buddhism and Shambhala Training (including three Warrior Assemblies) in North America and in Chile, Brazil, and Spain. She is a writer, editor, and ESL teacher in Halifax, Nova Scotia where she lives with her husband Richard who is also a senior teacher in Shambhala. Alice serves as vice-chair of the Shambhala Commission on the Status of Women and Feminine Principle.
Post Tags:
Arising from Space
,
Khandro Tseyang
,
Lady Diana Mukpo
,
Sakyong Wangmo