Saturday
Dharma Teachings
The Cool Kids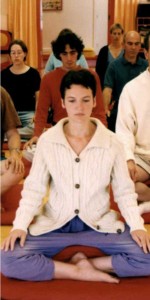 By Acharya Michael Greenleaf
Recently, the New York Times published an op-ed piece on a conference for Social and Affective Neuroscientists (or "Neuros") which took place in New York this past week. According to David Brooks, the writer, "the leading figures at this conference were in their 30's, and most of the work was done by people in their 20's." And all of them, he pointed out, were "young, hip and attractive."
Mr. Brooks went on to write, "many of the studies presented here concerned the way we divide people by in-group and out-group categories in as little as 170 milliseconds." At the same time, another study "showed that if you give people a strategy, such as reminding them to be racially fair," for example, "it is possible to counteract those perceptions." As the article points out, to live with a view or idea is not an option, it's what's happening. And it's happening very fast.
The In-Group
As a newly-minted teenager, I ran with the cool kids. I knew who "we" were and who wasn't "us." I knew who was "in" and who was "out." I assumed great things from "our" crowd and nothing from the "uncool" whom I ignored (or worse). In its rigid application of exclusion, and its focus on territory (school was assumed to be "ours"), being cool was a kind of warfare. Cool was to be joined; uncool, suppressed. To maintain my outlook and compelling view of the world, I had plenty of evidence – subjective and objective. One year later, a move and a new school would prove me (at least the cool me) irrelevant.
Click here to read the full article on the Samadhi Cushions blog.
Post Tags:
ego
,
selflessness