Monday
Featured Stories
Stuart Lord's Vision for Naropa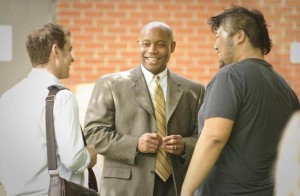 Excerpt from Stuart Lord's Inaugural Address as the Fifth President of Naropa University
As I embarked upon this journey at Naropa, I knew I was given a great responsibility. I am at the helm of an institution with an amazing history, a powerful mission, and an opportune future. Meeting the members of this community, individuals who have shaped this institution into a space for true contemplative education, has left me in awe. Such individuals have enabled Naropa University to expand and grow; enabled it to seek new horizons; and have further its mission to help educate students to become the leaders of their generation.
And as I stand here before you now, I can only say we are not… done… yet.
This moment marks our collective beginning. And it is precisely this moment that I find
so exciting – and so challenging. Our history is vibrant and rich. We are an institution
forged from its inception with a deep purpose – providing true and well-rounded
education. And it is with this purpose in mind that I endeavor to build on our
foundation. This purpose has led me here today to assume this great honor as the
president of Naropa University.
Since my first visit to campus, I have said that Naropa University is too good not to be
better. Heading the words of Chogyam Trungpa Rinpoche, I share my vision for Naropa
with you. My vision is not a new direction or a change in institutional philosophy, I only
aim to enhance and build upon the strengths that Naropa already has. Using our link
between traditions of the past along with our present experience, we will build a stronger
and better Naropa.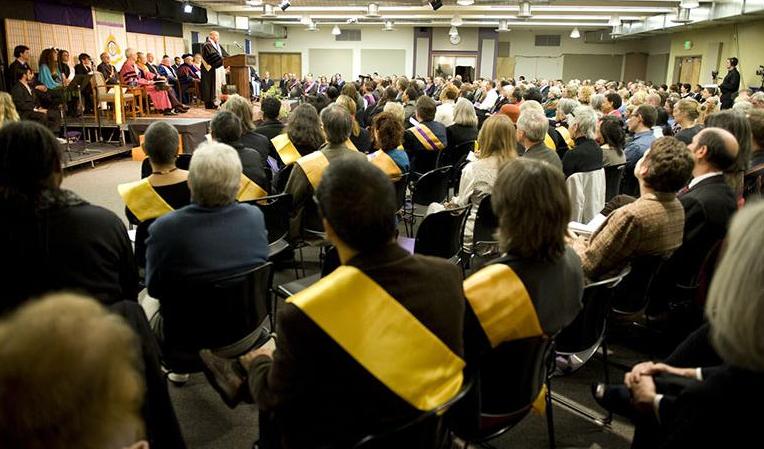 In Alice in Wonderland, Lewis Carroll paints a picture of Alice coming upon the
Cheshire Cat in a tree. Not knowing how to proceed, Alice asked the cat, "Would you tell
me, please, which way I ought to go from here?" The Chesire Cat replied, "That depends
a good deal on where you want to get to." Alice answered, "I don't much care where –"
The cat profoundly stated, "Then it doesn't matter which way you go." Carroll summed it
up by saying, "If you don't know where you are going, any road will get you there."
So before we talk about what roads we wish to traverse, I want to share with you where
I believe Naropa needs to go.
First, I want to build on the foundational philosophy that Chogyam Trungpa Rinpoche
set for higher education. His vision for higher education was fundamentally different than
the traditional mold. The vision that the founder had in mind is that we would not only
transform students, we would transform the world by changing the way we delivered
education. His vision sought a school where a student's heart, soul and mind were all
engaged, equally. He burned for a place where students could translate their passions
into learned skills to better our world.
But understanding Chogyam Trungpa Rinpoche's vision, we are still poised with the
question: if we're true to ourselves and the mission, what does that mean? Harvard, Yale,
and Dartmouth were founded to train leaders. Naropa was founded not only to train
leaders but also to transform higher education—to transform the way that students learn.
This was— and is— fundamentally different. It's an experiment. We have to be the
pebble that causes a ripple throughout higher education.
As schools across the world view this holistic approach to education, they will recognize
what is fundamentally different about Naropa. We have the capacity to transform higher
education—not just our students and the local community, but individuals throughout
the world.
We have a mission to educate students but will we also take on the mission to become a
model for other schools across the country. We will need to be willing to offer other
schools a way to connect back to their heart and soul. The world is calling for holistic
leaders: leaders with sound ethics, a compassionate heart, a curious mind, and an open
soul. There are a lot of examples of leaders who have been disconnected from heart,
mind, and soul: Bernie Madoff, Enron executives, Bear Stearns bankers, mortgage
lenders. These are disconnected leaders. The world is calling for a more accountable,
transparent, compassionate leader. This is the kind of leader that Naropa University
must produce.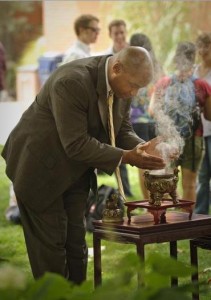 Second, I want to build upon the foundational precept that contemplative education is a distinctive and valuable educational philosophy for both the students who receive it and the world on which those students will make an impact.
Society expects students to engage in the world with a strong sense of civic responsibility. This expectation means that those of us working in higher education should be asking the questions:
What are we producing? What are we creating? How are we engaged with the world's problems?
The world's problems are our problems. The future of higher education depends on graduates addressing the problems of the world, our global community. It depends on graduates being able to recognize our connectedness and interdependence.
Naropa University is graduating compassionate leaders who have the ability to think in
new and creative ways, to challenge prevailing orthodoxies, to depart from the status quo.
Naropa's approach to education can never be the status quo. Our institutional aspiration is
to produce students that always challenge the status quo; thus, we can never be what we
seek to change. We believe it is crucial to produce graduates who search and explore
deep problems that vex our society. Finding solutions, working to better the world around
them. Is this not the purpose of their education?
Third, I want to build upon the foundational principle that spirituality and service play
a meaningful role in the education of the whole student.
As Robert Bellah wonderfully said, developing habits of the heart is essential to our
individual development as humans. If students are truly going to be contemplative and
give deep consideration to the issues of our day, we must help them build the context in
which their values can be evaluated. While students have much to do in the realm of the
academics, it is how students interpret that learning in light of the world around them that
will make them productive and influential members of it.

Read the entire text of Stuart Lord's Inaugural Address.
View a slide show of Inauguration Day at Naropa.
Watch a video of the Inauguration speech.
While at Dartmouth, I led the development of a program called the Katrina Education and
Service Trips, which took students to the Gulf Coast in the wake of Hurricane Katrina
and gave them opportunities to serve people who were in need. Yet we did not just load
them on buses and in vans and send them down south. They received training in some
very practical skills such as mold removal and drywall installation. They also were
required to spend some time understanding the politics of poverty and how people might
interpret the efforts of these Ivy League students as they swooped into a community for a
short time.
Upon their return, students were required to attend debriefing sessions and discussions
with their trip leaders regarding the experience. The students were expected to reflect
upon and share what they learned about the community and their role in it. It is one thing
to send students to accomplish tasks, but it is another to give students an educational and
contemplative context to approach those tasks.
For some students, this reflection time involved discussions about their own spirituality
and how that spirituality played a role in their service. For other students, it was taking
the principles of the classroom and seeking to understand how those principles might
explain the images that they confronted once placed in cities devastated by Katrina
and Rita.
We MUST develop students with habits of the heart. It is imperative to developing and
deepening our contemplative practices. For some it may mean, meditating on a cushion,
going for a hike in the woods, having a deep conversation, or pondering at the bank of a
river. Naropa students should and must engage socially, in the local, national, and
international communities, in the spirit of service. Students need the opportunity to serve
others so that the people they share the world with can color their experiences.
This distinctive educational approach requires that we develop habits of leadership and
service simultaneously. It requires that we not only instruct students in how to live a life
of service but we must model this behavior.

Photos courtesy of Naropa University.
Post Tags:
inauguration
,
Naropa University
,
Stuart Lord