Thursday
Scene and Heard
Karmapa Unveils New Website on Environmental Protection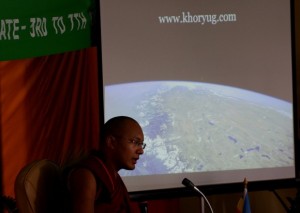 This week, His Holiness the Seventeenth Gyalwang Karmapa unveiled a new website dedicated to environmental protection in the Himalayan region.
The website is www.khoryug.com, named after the Tibetan term for the environment, khoryug. It is shorthand for Rangjung Khoryug Sungkyob Tsokpa, the Karmapa's new organization for environmental protection which roughly translates as "the association for the protection of the natural environment."

Here is an excerpt from an article published today on Phayul.com:

Khoryug is a network of 36 Kagyu Buddhist monasteries across India, Nepal and Bhutan that are working together to help create an environmental awakening in the Himalayas on the importance of forest protection, water conservation, wildlife preservation, climate change adaptation and waste management.

Accordingly, the website intends to offer educational resources on different environmental issues and a forum for people interested in the environment. The network of monasteries will manage much of the information availabale on the website that will include updates by monasteries on progress made in their respective environmental projects.

Launching the website at Tergar Monastery in Bodhgaya, the Gyalwang Karmapa underlined the need to work for the environment as a "logical extension of our Dharma practice, connecting it to our Mahayana commitment to benefit others, and to live in a way that is consistent with the basic fact of interdependence."

Karmapa also urged the audience to ask themselves whether the beautiful aspirations and prayers they make in the morning are carried out in their actions throughout the day. "Often when opportunities arise to work to benefit others, we do not seize them, and if we ask ourselves why this is so, it is usually because we are simply working for our own egocentric concerns," Karmapa said, adding "Too often we behave as if others existed for us, and as if the Earth was ours alone to use as we wish."

Read the full article on www.phayul.com.
Visit the new website, www.khoryuk.com.
Post Tags:
environment
,
Gyalwang Karmapa