Monday
Opinion Pieces
Service & Shambhala Households
Contemplating the Sakyong's talk on Shambhala Households, I found myself thinking about the practice of service. Service is such an integral part of Shambhala that it is often taken for granted and not recognized as the profound practice that it can be.
Hearing the word "service" might at first bring up images of serving a teacher by bringing a glass of water or a cup of tea, before or during a talk. Or perhaps the image is of serving in a household set up when the Sakyong, or another visiting teacher comes to lead a program. Service, in that case, might involve running a vacuum cleaner, doing laundry, washing the dishes or cooking or serving a meal. Or the image might be of doing these activities at the Kalapa Court in Halifax, the home of the Sakyong and Sakyong Wangmo. In practical terms we only do this kind of service occasionally.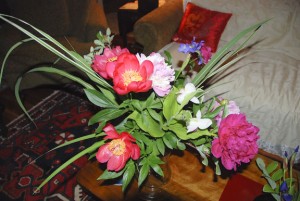 However, there is a wider view in which service can be seen as the basis of many common Shambhala activities. In this wider view the basic elements of service could be described, in a simplified way, as (1) creating an uplifted environment and (2) attending to the needs of those PEOPLE in the environment. From that point of view, staffing or teaching a Shambhala program certainly involves the practice of serving, as does any kind of administrative activity. Likewise, Dorje Kasung activity is a very direct form of service.
In my experience, service, in this larger view, is a powerful practice. It involves body, speech and mind and, being a "real world" practice, requires engaging with the world as it is. In experiential terms, the practice of serving involves a fundamental shift of attention from "me" to others and the environment. That is, in the process of serving the practitioner is focused more on the needs of the environment and the people in it, and less on their own individual interest.
In thinking about Shambhala Households, it would seem that the practice of service is clearly applicable. In particular, as residents of a Shambhala Household we could view ourselves in the role of providing service to the environment and residents (including ourselves) of our own household. This would mean relating to our household with the same attention and care we would take if we were serving in the Kalapa Court or teaching or coordinating a large Shambhala program, or being on-duty as a Kasung with the Sakyong or Sakyong Wangmo.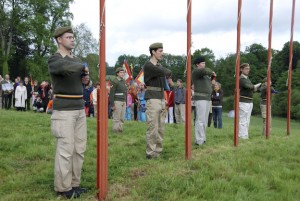 This concept will be familiar to Dorje Kasung who often talk about being on duty 24/7, applying the same practice, the same mind, in whatever situation or environment they find themselves, whether officially on-duty or not.
There are, no doubt, many ways to bring the view, practice and action of Shambhala Buddhism into our households. The practice of serving may be one. As a practice it can be quite demanding, but it is also fundamentally uplifting. It is interesting to note that Chogyam Trungpa Rinpoche coined the phrase, "Service is the Ultimate Smile."
Photo Credits: Sean Raggett. Flower arrangment by Khandro Tseyang.
Post Tags:
kasung
,
service
,
Shambhala Households