Friday
Community Articles
A Worldly Solo Retreat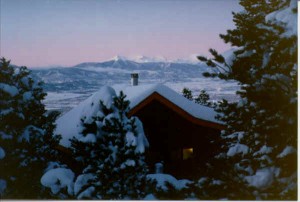 Contemplating the Sky at Dorje Khyung Dzong
By Jennifer Holder
Ah, the sound of Windows Vista. It's been days, old friend. Today I thought of you when I was sipping coffee on the front porch and I thought I saw a cloud take human form and wave at me. "Hey," it seemed to say, "I sent you an email – why haven't you responded?" Um, because I'm off the grid, in a mountain cabin, sipping coffee after contemplating the cosmic mirror for a couple of hours. Sorry, but it'll be next week before I respond.
Three days into my solo Werma retreat, while thinking of the Shambhala Times the yearning to connect with the sangha arose. Last week, when I told people of my upcoming solo Werma retreat at Dorje Kyung Dzong, they usually shared a harrowing story of their own solos. Of breakdowns and tears and longing to run after the guy who delivers water and tell him to take them down the mountain with him.
Well, three days have passed, and while I have four more to go, I have no such tale to tell. I will say that my sense of humor has returned. Thank Shiwa Okar, a sense of levity has emerged among all my hopes and fears, wishes and aspirations. Oh, they bogged down my practice, filling my visualizations with all kinds of unnecessary activity. Kind of like my life.
What's it like to sit on the proverbial mountaintop and contemplate existence and nonexistence? To join the Buddhist lineage in retreat, to forgo all distraction in order to go through the stages towards enlightenment?
All I can say is chop wood, carry water. No, really – I'm not being cute, and I'm not being entirely literal, either. I have contemplated this deeply – mostly from exhaustion with relating with the world. Why do the Shambhala teachings have to ask us to work with phenomenon and other people? Just as it can be inspiring and motivate our sense of path, it truly is exhausting sometimes. As I sit in the warrior posture three times a day and supplicate, I think to myself – wouldn't it be easier to simply contemplate emptiness without the duty to carry my understanding into such a complicated world?
As Shambhalians, we have to do that and more – we have to come to understand our own personal kingdom and then rule it. We are asked to exist in a way that inspires the rest of the world. And we are commanded to plant the flag of dharma in all corners of the world – and our minds.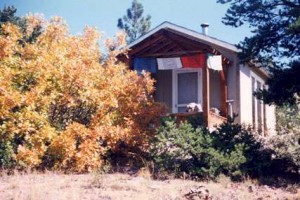 As I build fires in my little wood stove and fill water buckets with mountain spring water, as I sit and witness the few phenomenon there are here, I am tempted to say that this is all there is. But that's not true. The modern version of chop wood, carry water is "answer emails, make phone calls, have meetings, and cook a decent dinner in between tasks."
Things are supposed to be slower up here, on this little peak that sticks out higher than the clouds today. And I guess they are – I take naps and eat and trek to the outhouse. Simpler, yes, slower no. Because while I am getting pretty good at following the out breath, holding the visualizations, and accumulating mantras, my mind is parting with old habits. And boy do I retaliate, with visions of armies that will manifest my will upon the world. That's quite entertaining, really.
But my developing relationship with basic goodness tells me to relax. To let go and have faith. And so, all alone on this mountaintop, I feel the warriorship of confidence increasing. But it's counterintuitive – rather than ruling through willpower and constant activity, I find myself contemplating how one can conquer and rule through gentleness and compassion. My sense is that gentleness allows us to see the world as it is – without our projections — and compassion helps us see the genuine way to move forward.
With a few more days to go, I look forward to relaxing into the open sky that is our true nature, and witnessing all the vibrancy that exists within it. I sure have plenty of inspiration in the endless expanse above Dorje Khyung Dzong.
Post Tags:
Dorje Kyung Dzong
,
Solo Retreat