Friday
Dharma Teachings, Sakyong and Family
Creating Peace the Shambhala Way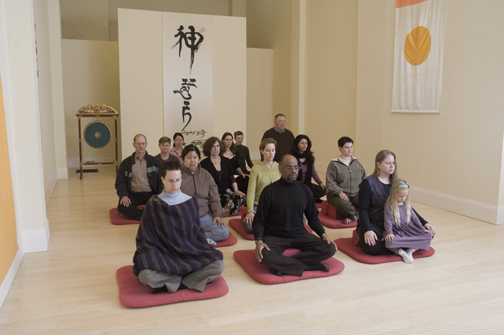 By Sakyong Mipham
It is absolutely possible to create a good human society here on earth. To do so, we need strong mindfulness and intention. As human beings, we are influenced by our environment. If we create an environment of aggression and disharmony, stress will become the norm. Conversely, if we create an environment of kindness, love, discipline, and generosity, we will all begin to feel a sense of peace.
One characteristic of this dark age is that we doubt our innate goodness. We look outside ourselves for fulfillment, which creates individualism, where we believe only in our own interests. We solidify our mind and consciousness—which are naturally fluid and harmonious—into material entities. We become hard individuals who communicate through anger and arrogance. We imagine that all that will satisfy us is material. With this view we create a hard, angry, and materialistic world.
At present, the world seems to be running on self-centeredness, speed, and aggression. As this pattern exacerbates, the possibility of peace, both personally and socially, will diminish. Materialism will never make us happy because it is of a different nature than consciousness. Even though material things are important, they are not fundamentally at the core of the human being. The antidote for this materialistic outlook is peace, the opposite of stress.
In creating peace, our relationship with the environment is critical, particularly our relationship with the inner environment—our consciousness. If we don't have a peaceful and harmonious relationship with our own being, it will be impossible for us to create peace anywhere else. Without a personal experience of peace, we won't even believe in the possibility. Therefore we must become mindful of peace.
Click here to continue reading this month's dharma teaching on www.sakyong.com
Post Tags:
peace
,
Peace is the Answer
,
Sakyong's Monthly Teaching