Saturday
Shambhala News Service
Prague Gathering Encourages Honest and Fearless Communication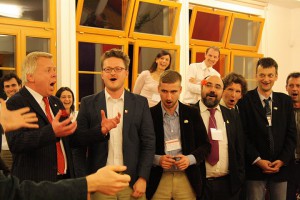 Shambhala Prague welcomed leaders from 24 centres and groups from 12 countries to this weekend's latest Kalapa Governance Gathering. Ranging from the Ukraine and Poland through to Spain, Italy and the United Kingdom, the more than 60 participants joined the challenge of continuing to encourage more honest and fearless communication throughout Shambhala.
The Kalapa Governance Gatherings are an opportunity for leaders — and anyone interested in the path of leadership — to explore how we will accomplish the Sakyong's 2020 Vision and his wish that we develop a culture of profound kindness. The gatherings introduce a series of community practices that include exercises on Listening and Inquiring, Having Difficult Conversations and Inclusion and Exclusion in Shambhala.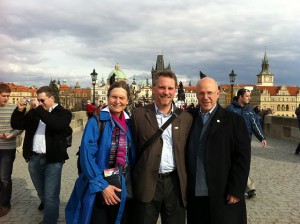 In Prague, the gathering devoted time to extended, open-hearted exchanges on the need to develop a supportive culture and skillful means to encourage people to speak more openly to each other and work with conflicts in ways that respect each other's basic goodness and dignity.
The Prague gathering was one of the most diverse to date. "The cultural mosaic was incredible," said Shambhala Europe Director, Chris Montone. "During the closing banquet we had a French woman performing a sacred Himalayan dance accompanied by a Swedish drummer, a Polish illustrator dancing an Hawaiian Hula volcano invocation, and a Ukrainian media professional reading a poem he composed in English about Royal Scrabble!"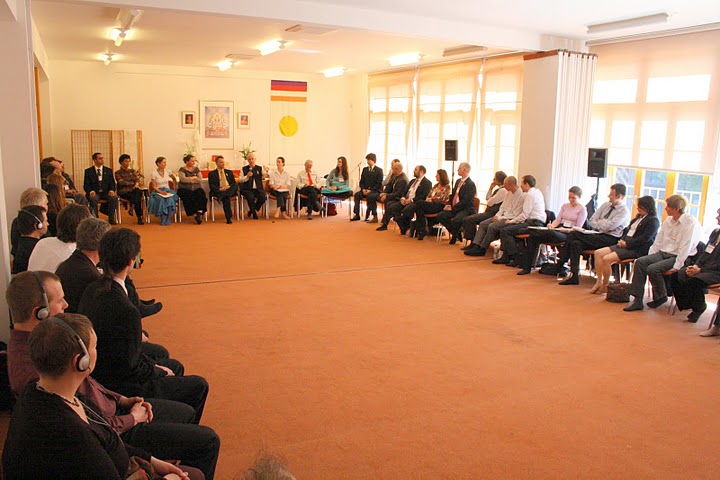 The importance of nurturing a much healthier community life in Shambhala has been a recurring theme at the five Kalapa Governance Gatherings since January in Atlanta, San Francisco, Chicago, Amsterdam and Prague.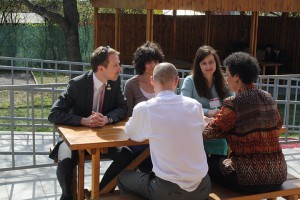 More than 350 people have so far taken part, coming from many parts of Shambhala society including Dorje Kasung, acharyas, shastris, teachers and meditation instructors, Shambhala Centre directors and group coordinators, chagdzos, and newly appointed representatives of the Shambhala Offices of Culture and Decorum and Societal Health and Well Being.
Several of the Kalapa Governance Gatherings have been sold out. The next gathering will be in Halifax 21-25 April and is nearly full with 110 registered for 130 spaces. Registration is also now open for Boulder 19-23 May, and Karme Choling 9-13 September. A gathering in Chile is being explored, possibly for 16-19 September.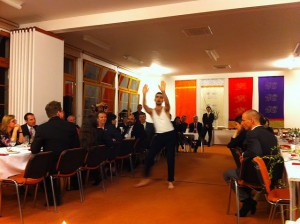 These will be followed by an additional gathering in Halifax 3-6 October. This gathering will occur immediately before the Sakyong, Jamgon Mipham Rinpoche, gives teachings on governance in Halifax Friday 7 October to Sunday 9 October. Attendance at one of the Kalapa Governance Gatherings is a prerequisite for receiving his teachings.
More information, and registration, is available through: http://shambhala.org/members/governance_gatherings.php Please re-check this site for the Halifax 3-6 October gathering, which is not yet online, but will soon be available. For the other gatherings, you may wish to register immediately, to ensure you can attend

Photos courtesy of Chris Montone and Tessa Ladendorff.
Post Tags:
Prague
,
Shambhala Governance Gatherings