Friday
Featured Stories
Poignant Transition for the Surmang Region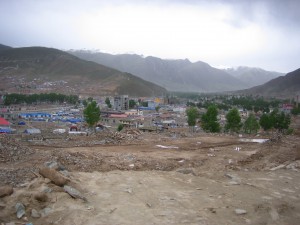 This update on the general conditions in Jyekundo (Chinese: Yushu), one year after the earthquake that devastated the city, comes from Konchok Foundation board member Holly Gayley, who recently traveled to the Surmang region in eastern Tibet.
More than a year after the devastating earthquake in April 2010, Jyekundo is still in ruins. Amid signs of construction–tractors on every corner, hundreds of Chinese workers, and piled bags of concrete–the rubble remains. The valley where the city once stood is covered in blue tents, given out by the government in the days following the quake on April 14th last year, which registered 6.9 in magnitude. The fairgrounds nearby, where the annual horse festival used to be held, contains the spillover of city residents still living in blue tents.
Construction is slow. Only a handful of newly constructed buildings rise up from the rubble: a school here, government offices there. Some homes are now under construction in Jyekundo, being built by the government along a uniform layout, 80 square meters (800 square feet) in size.
Click on any image to view as a slideshow:
Many of the surrounding villages are also receiving government aid for reconstruction, even where the damage was nominal and people continue to live in their own homes. The whole village of Thrangu, below the monastery that was all but ruined by the quake, has been totally rebuilt.
Surmang Dutsi Til monastery is continuing to provide some support to those affected by the earthquake, making use of relief funds given by donors to the Konchok Foundation. In the winter, heavy blankets were distributed to families living in tents. More recently, some direct financial assistance has been given to those taking care of children orphaned by the earthquake.
The great majority of the Konchok Foundation earthquake relief support was distributed by the Surmang monastery team as emergency assistance immediately after the earthquake, but a fraction was held back for these longer term needs.
The majority of government reconstruction efforts are now focused on clearing the roads in order to widen and pave them. The demolition of buildings damaged by the quake and homes in the way of road construction has largely been completed. The result is an array of empty lots awaiting new buildings promised by the government.
Nevertheless the pulse of the city feels strong. It runs through the muddly lanes that crisscross the valley. These lanes are flanked by shops and restaurants, all in the same blue tents that residents continue to live in, but with makeshift facades.
For the months to come, Jyekundo will remain a tent city.
Post Tags:
earthquake
,
Jyekundo
,
Konchok Foundation
,
Surmang