Thursday
Community Articles
A Yak's Tale of Liberation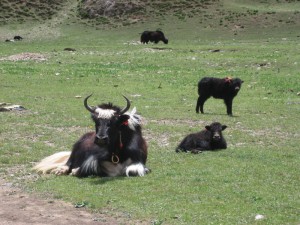 Liberating the life of animals, called tsethar in Tibetan (tshe thar), is a longstanding practice in Tibetan areas. In its traditional form, the practice involves offering a nomadic family a sum of money to keep a yak for the duration of its life. The yak is marked with a brightly colored cloth ribbon (usually yellow or red), which is tied through a pierce in its ear. A yak, so marked, will be kept as part of the family's herd until its natural death. In Tibetan areas, it is taboo to sell, steal or kill a yak that bears this mark.
More recently, the revered Khenpo Jigme Phuntsok advocated strongly for this practice. Prior to his passing in 2004, he produced a VCD (video CD) bearing the image of a yak and the simple title, Tsethar, to encourage liberating the lives of animals. The VCD has two parts: the first shows gruesome images from a Hui slaughterhouse, and the second contains a speech by Khenpo Jigme Phuntsok urging a crowd of thousands of nomads not to sell their yaks to slaughterhouses.
On my recent trip to Surmang, I noticed a number of yaks with bright cloth tied to their ears. Surmang Khenpo told me that these yaks had been liberated, and I immediately asked if we could liberate a yak during my visit. On my final day in the Surmang valley, Khenpo asked a nomad woman along the road, near a Surmang village, if she would be willing to have one of her yaks liberated in exchange for 500 RMB (slightly less than $100). She agreed and herded her yaks back to the village.
Out of the herd, I chose a dri (female yak) on Khenpo's advice, so that the woman's family could continue to benefit from the dri's milk. The dri is only two years old now and could live until the age of twenty. The piercing took only a minute, and a bright red ribbon was tied to the ear of the dri. Voila, the dri was free! Khenpo suggested that I name the dri. I chose Jigthar meaning "liberation from fear."
Om mani padme hum!
Post Tags:
liberation
,
yak