Thursday
Sakyong and Family, Shambhala News Service
Jetsun Drukmo Celebrates First Birthday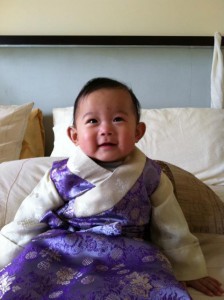 The Kalapa Court is delighted to announce the first birthday today of Jetsun Drukmo Yeshe Sarasvati Ziji Mukpo.
Yesterday Jetsun Drukmo joined the Sakyong and Sakyong Wangmo and 900 students for the conclusion of the Being Brave, Transforming Our World Sangha Retreat in Halifax. The assembly welcomed her by singing the birthday song. She charmed the assembly with her smiles, waves and bows.
The Sakyong and Sakyong Wangmo are holding a birthday celebration for Jetsun Drukmo with members of the Mukpo and Ripa families and a few friends today at the newly remodeled Kalapa Court in Halifax.
Spontaneous Shambhala celebrations with family and friends are always appropriate to mark such auspicious occasions.
Post Tags:
Jetsun Drukmo
,
Mukpo Baby News