Sunday
Featured Stories, Sakyong and Family
The Sakyong Receives Responses to the Letter of the Morning Sun with Delight
by Candlin Dobbs
Last Fall, the Sakyong sent each member of Shambhala a letter describing his contemplations during retreat, and asking each of us to contemplate these three questions as well. He asked if we would write him back!
During the Being Brave retreat, we presented the Sakyong with bound books containing our responses to the Letter of the Morning Sun. The six volumes included responses from 2,283 Shambhalians, from 30 countries, and every continent except Antarctica.
The Sakyong was so pleased with the bound volumes that he brought them to the final talk of the Being Brave retreat and showed them to the assembly from his throne.

Only two copies of the volumes were made, one for the Kalapa Court in Halifax and one for the Court in Boulder. They are to be read only by the Sakyong and the Sakyong Wangmo.
There is one volume of responses from Canada, one from Europe, 3 from the US, and a final volume that includes responses from Asia, Africa, South America, Australia and New Zealand. Each volume includes an index by member's last name, so the Sakyong can look responses up by member's names. The volumes total over 3,000 pages.
Where possible, responses are linked with information about members from the Shambhala Database, so most of the responses are grouped by member's centers and then by region and country. Where possible, information about the member's geographical location, age and practice level was included.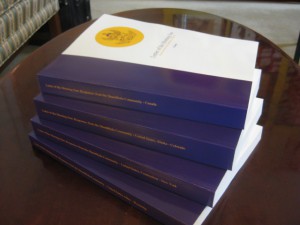 One of the principles of our work was that the letters were for the Sakyong's eyes only, so while the team used people's names and emails to connect responses with data in the Shambhala Database, we didn't read what was in those responses.
Answers that were written in languages other than English were read only by the Shastri, or Acharya or trusted translator who worked on the translation. Some people chose to send letters rather than respond via the web. These letters were included. Others chose to respond anonymously and these responses were also included.
In response, the Sakyong composed The Answer of the Golden Sun with his thoughts on how we as a community should proceed. To read the Sakyong's letter, please go to: Answer of the Golden Sun. There you can also find a letter from the Kalapa Acharya, Adam Lobel, about the first Shambhala Lineage Festival to be held September 24 and September 25, 2011, and the vows which will be offered.

Thanks to Candlin Dobbs and Anna Weinstein who worked to produce the beautiful volumes! Photos are by Mr. David Brown.
Post Tags:
community
,
Sakyong Mipham