Friday
Dharma Teachings, Sakyong and Family
Bravery: Synchronicity of Body and Mind
by Sakyong Mipham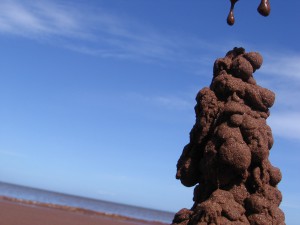 "We have quickly realized that without synchronicity, we are only idling in the dark age."
When we realize the power of aligning our mind and body with our surroundings, we are able to be dignified and courageous because synchronizing our thoughts, actions, and the environment allows full-blown bravery to manifest — both personally and socially. When we have the bravery to buck the continuous onslaught of our neurosis and the samsaric depression of the world surrounding us, we experience basic goodness.
The theme of bravery radiates throughout the Shambhala teachings, which were introduced to the West by my father, Chogyam Trungpa Rinpoche. The first kind of bravery is being free of deception. Through meditation we are less seduced by afflictive emotions and habitual patterns, so we're not as frightened by egolessness. We are able to leap into the moment—which is the second type of bravery. Having taken that leap, we gain the vision of the Great Eastern Sun, the third kind of bravery, which reveals the sacredness of our world. Through that sudden display of courage, our whole world is illuminated. As my father put it, "You begin to experience basic goodness reflected everywhere."

From that act of freshness, our mind is liberated from doubt and disbelief. Such a visionary approach leads to the fourth level of bravery: realizing the dignity of body and mind being synchronized. In this dark age, a predominant manifestation of doubt — and thus lack of bravery — is our idea that not paying attention and not having mindfulness is somehow pleasurable. Assuming that mind and body are two separate entities, we consider keeping them together to be hard work. Thus we might actually seek not being synchronized, with the result that realizing un-synchronized mind and body brings infirmity. With such disbelief in our inherent strength, the mind and body are disenfranchised. Sickness plagues the body, and disbelief plagues the mind — especially disbelief regarding basic goodness.
In truth, mind and body are inherently synchronized. We are intact now; we are already whole. This completeness is simply a manifestation of basic goodness. In relation to mind and body, "basic" means that the contained and the container are one. Because the belly of the vase protrudes, it is naturally synchronized with the water contained within it. Because there is a nervous system, the mind naturally has a place to integrate with the body.
Synchronicity Manifests as Love
When a couple are united, they feel a primordial synchronicity that manifests as love. Being in sync brings a dignity that goes beyond either individual. When two beings feel this way, they glow. That completeness provides a spark for dignity to blaze. The Tibetan word for "dignity" is ziji.
The "ji" in ziji means "glory" — honor won by accomplishment, or dignity achieved through grace. It is luster brought about through synchronicity. To be full human beings, we cannot simply be trapped in our mind. We need to be in union with our environment, which means appreciating "other."
This element of organic chemistry applies to life as a whole. When the mind is full of gentleness and humor — as well as precision and strength — a tremendous dignity arises. Because dignity comes from being fully present, genuine dignity exudes synchronicity. Things feel right, and it shows.
With synchronicity of mind and body, we have no hesitation or laziness in grooming ourselves. However, being well groomed and well dressed does not necessarily ensure a sense of dignity. For example, if you are well dressed and engaged in a deviant lifestyle, there is a dull or sinister glow.
When you are fully engaged in bravery with body and mind, an electric feeling results. It is magnificence, embodiment, synergy. This dignity can occur anywhere in the social spectrum. We take delight in eating good food and enjoying a drink. With bravery in our lives, our body moves gracefully. We are free from the habitual neurosis of gossip and idle speech. The mind and body are not simply working well together: they are like a well-oiled machine, or music from an orchestra, or the perfectly matched steps of a couple dancing. When body and mind are synchronized there is an overall sense of balance: no discrepancy between what we think and what we do. Click here to continue reading this past August's monthly dharma teaching on Sakyong.com.
Post Tags:
bravery
,
Sakyong Mipham
,
Sakyong's Monthly Teaching
,
warriorship