Wednesday
Sakyong and Family, Shambhala News Service
The Passing of the Sakyong Wangmo's Grandmother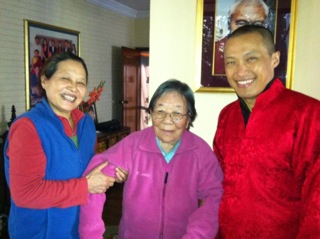 The Sakyong Wangmo's grandmother, Karmo, passed away early last month. Born in 1922 in Pemako, Tibet, she left home at the age of 13 in search of a spiritual master. She found her root teacher in His Holiness Dudjom Rinpoche. Later, Karmo became the personal attendant to the Sangyum of His Holiness. During this time she traveled extensively through Tibet and met and married Khandro-la's grandfather, Jigme Wangchuk, a close student and personal attendant of H.H. Dudjom Rinpoche. Karmo and Jigme Wangchuk were great practitioners and very devout disciples of H.H. Dudjum Rinpoche, serving him for more than twelve years.
In 1951, Karmo gave birth to the Sakyong Wangmo's mother, Chime Dolkar, in Pemako, Tibet, who married His Eminence Namkha Drimed Rinpoche. After the family was exiled, they were re-settled in the Tibetan settlement of Orissa, India, home to the Ripa Ladrang and Ripa community.

Karmo was very gentle and strong. Although she witnessed terrible brutality in her lifetime, her faith in His Holiness Dudjum Rinpoche and the dharma never wavered. People always saw Karmo with a mala in her hand. She did not know how to read or write; however she had memorized many practices such as Chenrezig, Tara, and Guru Rinpoche. She did these practices constantly.
Later in life, Karmo and Jigme Wangchuk moved to Kathmandu, Nepal so that Jigme Wangchuk could teach the Bhutanese reincarnation of H.H. Dudjum Rinpoche. They regarded both the former H.H. Dudjum Rinpoche and the Bhutanese Dudjom Rinpoche Yangsi as their root teachers.
Jigme Wangchuk passed away in 2001. During his passing away he showed signs of great accomplishment. After this, Karmo moved in to the Ripa Ladrang in Nepal where she was very much loved and taken care of by the Ripa family. During the last ten years of her life she practiced constantly.
On September 2, 2011, at age 89 Karmo passed away. She remained in deep samadhi for ten days, and exhibited no signs of decay. She was cremated with full Buddhist honors in a traditional ceremony, attended by her family, lamas, relatives and well-wishers.
His Eminence Namkha Drime said of Karmo, "She has been a very great example of what it means, in the face of great obstacles, to have a lifetime of unwavering faith, trust, and devotion."
Post Tags:
Khandro Tseyang
,
Warrior Tribute