Tuesday
Arts and Poetry
Dathun Ducks
from an anonymous contributor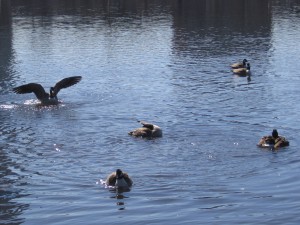 In 2008, I had the great fortune to be able to participate in the winter dathun at Shambhala Mountain Center. It was a great experience for me and I'm very grateful to Chogyam Trungpa Rinpoche and his lineage for having created Shambhala, the teachings, the courses and the retreat centers. Towards the end of the dathun, and in the weeks afterwards (I also went for 10 days to a solo retreat) new images and words started to crowd my mind (in addition to all the others that were already always there) and I felt the urge to write them down, even while sitting in meditation. The following poem is what came out of that.
Dathun Ducks
(As observed and fantasized about by one of them, instead of staying with the breath.)
Ducks come flying in
From all the places they live
They gather in the sky
Circling above a lake
It lies peaceful and deep
Here they have come to meet
Some have been here before
Others are new to it

On the first days
Many land on the surface
Others come close
But remain in the air
Some swim around for a while
Others sit still
Strange feelings arise
That makes them wonder…
The feet want to move
The beaks want to chatter
The wings want to fly
The mind wants them to go
When the day is over
Many fly up, as high as they can
Back to where, they know how to be
And believe to be free
During the next weeks
Most land again
Some dip their heads
A few risk to dive
They feel drawn and sometimes afraid
By the new feelings
That seem to arise
From deep below, or is it themselves?
Should I go deeper?
Should I turn into a fish?
Should I become the lake?
Or nothing at all…
After the gathering is over
All fly away
Some will return
And land, again and again
Some will find
The lake by their home
And land and dive
As often as they can
And they will wonder
Should I turn into a fish?
Should I become the lake?
Or nothing at all…
Post Tags:
ducks