Saturday
Community Articles
The Mind of Mindfulness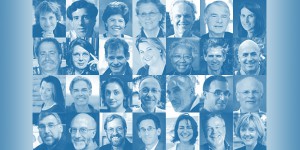 by Irini Rockwell
The first annual International Symposia for Contemplative Studies held in Denver April 26th to 29th was the place to be for anyone interested in mindfulness and brain research. 700 of us from all over the world gathered together to explore this cutting edge endeavor of bringing the best of the West and the best of the East together. None of us had any idea as to how big an event this was going to be!

My original inspiration to go was to connect with people who might collaborate with me in researching the effects of the Five Wisdom postures, originally introduced by Chogyam Trungpa Rinpoche, with which I train people in personal and professional development. It soon became clear that brain research would be too expensive and time consuming. However, phenomenological research could be the place to start. We will be going ahead with this at the Five Wisdoms Institute.
As well, I was looking for possible collaborators to launch [email protected] in the Boulder/Denver area. This happened quite spontaneously on the last day! Stay tuned.
The symposia was hosted by the Mind and Life Institute, now in its 25th year, which was originally instigated by the Dalai Lama. The purpose was to bring together academics and those interested in contemplative approaches and research in the fields of science, philosophy, humanities, education and spiritual practice. These distinct though overlapping fields focused on advancing our understanding of the human mind and how training the mind through the use of contemplative practices can lead to reduced suffering, enhanced health and cognitive/ emotional functioning, greater happiness, and increased social harmony.
It was a rock-out! Many longtime players were there: Jon Kabat-Zinn, Matthieu Ricard, Richard Davis, Arthur Zajonc, Wolf Singer, Roshi Joan Halifax, Sharon Salzberg, Brother David Steindl-Rast, Barbara Fredrickson, Carolyn Jacobs, Diane Chapman Walsh, Evan Thompson and even Congressman Tim Ryan, to name a few. It was also good to see many of my longtime friends and colleagues from Naropa University. In many ways, Naropa has been at the cutting edge of these discussions for almost 35 years. Obviously, the news has spread!
The day started with Richard Freeman leading yoga followed by mindfulness practice led by several luminaries. The rest of the day was packed with countless presentations, poster displays, in-depth discussions over lunch, and networking.
Also well worth mentioning, was the Contemplative Teaching and Learning workshop held the day before the symposia. As longtime faculty at Naropa University, Contemplative Education is close to my heart. People from the Garrison Institute Initiative on Contemplation and Education were there in full force. I had congenial conversations with Richard Brown, a longtime colleague at Naropa, Mark Greenberg and Patricia Jennings who have developed an annual summer retreat called CARE for teachers.
Last but not least was the inspiration to develop training programs in compassion for those working at Vermont hospitals. In conjunction with that, my friend David Zahn has had the inspiration to capture the empathetic understanding that nurses and doctors have about the subjective experience of patients. We will see how that unfolds.
Post Tags:
conference
,
Five wisdom institute
,
Five Wisdoms
,
research