Wednesday
Mandala Projects
Shambhala Lineage Thangka: Update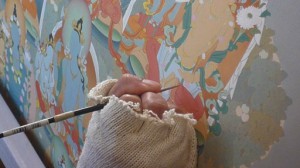 Shambhala Times Q & A
with Acharya David Schneider of Cologne, Germany
Shambhala Times: Greetings David. You went to India last year, to see the Shambhala Lineage thangka being painted…?
David Schneider: Yes, the Sakyong and President Reoch thought it would be good to chronicle the work on this large painting, so I went to the Shambhala Art School, in the Kullu Valley, north India, where the work is being done.

Noedup Rongae — a master artist, as well as an old friend to both Trungpa Rinpoche and the current Sakyong— kindly hosted me in the school for several days. We were able to talk pretty extensively about the painting and the background to it, and I also got to shoot some pictures and video. Part of the idea of my trip was also that once the thangka is finished, there should be a nice book to go along with it.
ST: What does the thangka actually show?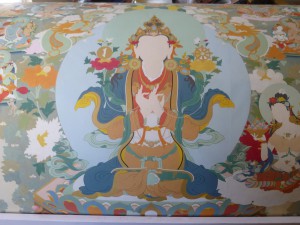 DS: It's a kind of continuation, you could say, of the Primordial Rigden thangka, with which many readers will be familiar. The Primordial Rigden is the central figure here as well, together with his queen Lhamo Natsok Yum. But this painting is in the form of a lineage tree, and in the central part of the tree, around these two main figures, sit the Dharmarajas and Rigdens of Shambhala. It's populous in the tree, with more than 70 mystic rulers sitting together, radiating. You would think the thangka might feel crowded, but it actually doesn't. It has a spacious air to it. Perhaps one reason is that it's also enormous. It measures something like 7 feet by 10.
A tree is a classic thangka design for showing not only the main figures in a lineage — in this case, the Shambhala lineage — but also the other teachers, meditation deities, protectors, texts, principle practitioners, and so on associated with the lineage. That's all here as well. Noedup Rongae went to H.E. Namkha Drimed's place in Orissa for the New Year's celebrations a few years back to work all this out with the Sakyong. There were a lot of decisions to be made.
ST: What kind of decisions?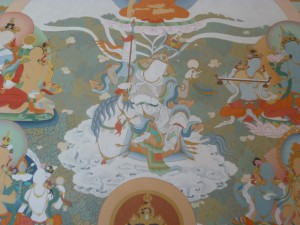 DS: Basically, who would be included, and where they would be placed. Some things were clearly specified, but there were also open elements. The painting follows a description in the Primordial Rigden Ngondro, and that text, for example, mentions "lineage gurus of India and Tibet," which is a pretty large group! Which ones do you show? How many?
The iconography of the Dharmarajas and Rigdens also presented challenges. Noedup searched for a long time — years, in fact — to find suitable descriptions and models. He'd started this search back in the 1970's, when Trungpa Rinpoche asked him to paint a set of thangkas of the rigdens, a set he finally completed years later. The search for the correct iconography led him back to texts and paintings hundreds of years old. Even though a very few sets of paintings of the Dharmarajas and Rigdens existed, they were mostly incomplete, and no one had ever painted them together in a tree before. This entire project is very fresh; it's setting a precedent.
ST: It also sounds like a lot of work.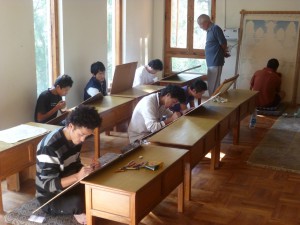 DS: Definitely. Noedup is very much the principle artist, but he's gotten help from others on this painting. Three renowned artists from his home village of Lhatok in Tibet — he only knew them as "the two Ani's and Uncle" — came to Shambhala Art School for ten weeks, and worked together with him to design the painting. They also finished the line drawings. That in itself was a huge accomplishment. Then all that design and imagery needed to be transferred to the canvas, where it could be colored, shaded and ornamented.


ST: What kind of work was happening when you were there?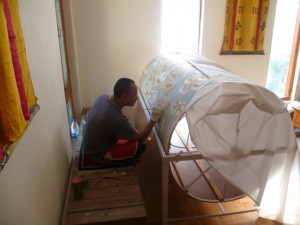 DS: I mostly saw the application of gold, to highlight the jewelry and ornaments of the Rigdens. Many people know that with the size of the canvas, and the amount of work required, Noedup and his crew had built a cylinder, and mounted the painting on that, so that several painters could work at once. At that point though, the gold was being applied with a tiny brush – maybe a single hair. Very detailed work, and only one person at a time can work.
I should add that Noedup supervises such detail work very closely, but his eyes don't allow him to work with a brush that small anymore.
ST: How much longer will the work on the thangka take?
DS: Very hard to say. I would guess the painting will be complete in something like the first part of 2013, but the artists are hard to pin down on this.
ST: And do you know where will it go once it's finished?
DS: I'm afraid you'll have to ask the Sakyong that. I can only think of a few shrine rooms — London, Dechen Choling's Drala Hall — that are large enough to accommodate a painting on this scale. But I'd guess it won't hang in those places – or at least, not for very long!
ST: Thanks so much for this little glimpse of work on the painting. Readers can see some of the pictures and video you've brought back by clicking here.
DS: No no, thank you! This is a wonderful project to be working on. I've written a much more detailed article about it, and anyone who wants to see that can send me an email at [email protected]. I'll be happy to share a copy.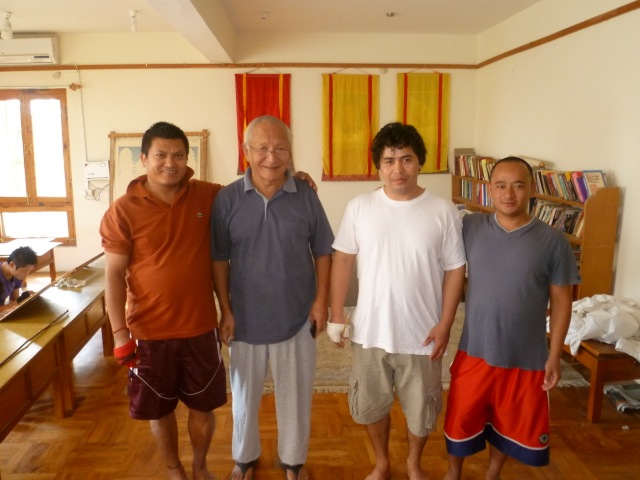 ~~
All photos by David Schneider.
To learn more about the Shambhala Art School, please click here.
Post Tags: