Sunday
Scene and Heard
Atlanta's New Director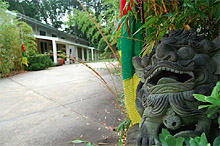 by Rhett Huber
A longtime Atlanta resident – until he and wife Norma Harris gave us up for Boulder for 10 years – the newly named Atlanta Shambhala Center Director Dan Phillips actually grew up in Indiana, where his family has had roots for generations. His sister still lives in the Midwest, while Dan's parents and a brother are in Atlanta.
Inspired during high school in Marion, Indiana by the singular vision of Frank Lloyd Wright, Dan felt he had found his professional calling early. "I began reading all his books and was immediately taken with his view of the world," Dan said. "He seemed to me a very spiritual person, reflective and appreciative of nature and the world around him. He saw design as an expression of human dignity."

Dan moved to Atlanta after completing his architectural education at Ball State University. He and Norma met while contra-dancing and were married in 1992. He found her outlook on life and concern with other people "very refreshing. She was very interested in the needs of others," Dan said. Norma would spend 20 years teaching at Morehouse College.
So how did these two come to the Shambhala path? Surely this is a karmic tale: one day Norma was browsing a used bookstore. Dan says, "You know how they're piled high with books everywhere" when the world shifted, dropping a book by a certain author from the overstocked shelves. One of Pema's books had landed where it needed to. "I've been around Pema a few times," Dan remarks, "and I've always wanted to tell her that story."
A few years later, they saw a brochure for the Center. "We lived near the Center's location then on Zonolite Road," Dan said. "Once we started going, we found we liked the place because of the people – they were friendly, genuine and they knew how to party!"
In 1997, Dan began working his way through Shambhala training. Some of the Atlanta folks who joined him on that journey include Bill Solomon, Kathy Walker, Debra Hiers, and Liz Mitchell, among others no doubt.
Asked what kept drawing him on, Dan said: "At first I didn't know what kept me coming back; I knew there was something there, even though I didn't know what it was.'"
Then came another shift: the teaching of the Drala course by Jeremy Hayward. "It was a big turning point," Dan said, "I knew this was my path."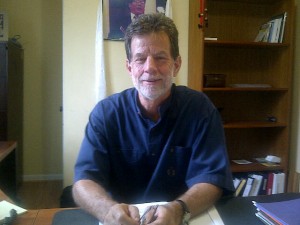 He attended Warrior's Assembly in 2000 and would have continued to Kalapa Assembly, but the timing wasn't quite right. And, interestingly, in the beginning he wasn't attracted to Vajrayana practice; but when he and Norma moved to Colorado in 2002 for her Naropa training as a therapist, they became involved at the Boulder Center, where the richness of practice and practitioners was too strong to ignore. Dan continued on to Vajrayana Seminary in 2005 and completed the Rigden Abisheka as well. Another bit of karmic timing? Group ngondro practice was introduced. "Those of us who began together are still very close," Dan said. He's received the Vajrayogini Abisheka and Scorpion Seal transmissions. "The timing of it all was very full," Dan remarked.
So now he and Norma have returned to the place where they began together, as a couple and as Shambhala practitioners. Why now? "The Sakyong has told all of us to manifest," Dan said. "Atlanta is a good place to do that. There are a lot of challenges in the world, especially to creating an enlightened society. It will take all of us to do it. But, we have been given so many rich practices – really a festival of richness – to work with, on a daily basis. We would be amiss to ignore the opportunity."
Welcome home, Dan and Norma!
~~
For more information about the Atlanta Shambhala Center, please click here.
Post Tags:
Atlanta
,
Director Updates
,
sangha activity