Sunday
Scene and Heard
Enlightened Dance Party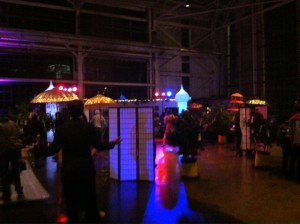 by Rees Sweeney-Taylor and Alex Van Gils
On Saturday night of the historic Creating Enlightened Society event, the Bay Area Ziji Collective hosted the first of many promised "Enlightened Dance Parties."
Good human societies from the four directions gathered and threw the proverbial "it" down after a day of inspired listening, discussion, and contemplation. To the ecstatic beats of the much anticipated DJ Dragonfly, young and old discovered once more the wisdom of their bodies, gyrating upon the dance floor. Others turned their thoughts to vibrant colors on an enormous finger painting sheet, while the muses lingered over collective poetic compositions on four clickety-clackety typewriters. For some in the room, it felt that enlightened society had arrived.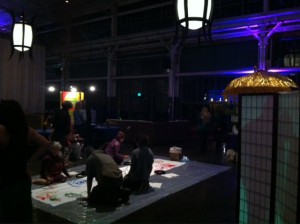 Humans of Earth are advised to keep their eyes open for future Enlightened Dance Parties – they will be experiences not to be missed.
~~
Alex Van Gils and Rees Sweeney-Taylor are two of the leaders of the Bay Area Ziji Collective, a community dedicated to uplifting themselves and society through the practice of meditation and the transformative power of collective action. Visit www.zijicollective.org for more information!
Post Tags:
Creating Enlightened Society
,
dance
,
Ziji Collective