Wednesday
Mandala Projects
Birth of Shambhala Publications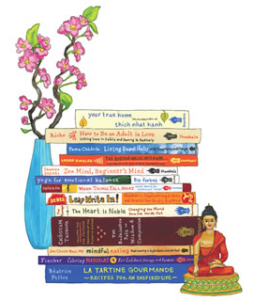 A Shambhala Times Exclusive:
Interview with Sam Bercholz
edited by Ani Dawa Chotso
Shambhala Publications was born at Ground Zero of the 1960s counterculture: in the back of a bookstore on Telegraph Avenue in Berkeley, California. The Times asked Sam Bercholz for more details …
How did it all get started?
"In 1967, Michael Fagan and I had both been studying buddhist and occult things. We and some other friends came up with this idea of starting something with the name 'Shambhala,' and so started a bookstore/meeting place called Shambhala Booksellers in Berkeley in 1968. It was a bit later that we decided to start a publishing house and called it Shambhala Publications." Shambhala Publications actually existed before they had heard of the Venerable Chogyam Trungpa Rinpoche and before Rinpoche's teachings were widely available.
It was later in 1968, when Sam was visiting England that he was shown their first manuscript by Vincent Stuart (who later became an editor for Shambhala Publications). It was entitled Meditation in Action. Sam read it and was, as they say, "wowed." He wanted to meet the author while he was in England, but a railroad strike on the London to Edinburgh route prevented the journey, and so it was published without the new publisher having ever met the author.
It became the first book published by Shambhala Publications in 1969.
Where did the name Shambhala come from?
"The name Shambhala came from a combination of readings and it came to me in dreams. My friend Michael and I wanted to do something with this name that kept fascinating us. It was emblematic of an enlightened way of living in society, but we had no connection to anything other than that the name was haunting us."
Coincidence?
The Tassajara Bread Book was their first bestselling book, the book that put Shambhala Publications on the map. All the books that came out in the first months were a mix of Buddhism and other subjects. It was only coincidental that Meditation in Action was the first book. But Meditation in Action was what put them on the map with Chogyam Trungpa Rinpoche.
"I got a phone call in early 1970, after the book had been published. One of Trungpa Rinpoche's people said he was in North America and would I like to arrange for him to give some talks in San Francisco. I said sure."
Sam was given a date and he set up some talks. He also agreed to host him there. When he went to the airport to pick him up, however, he was surprised by who he met – he wasn't at all what he had had in mind! Not this blue blazer with Oxford crest tie and Oxonian speech.
"My connection with Trungpa Rinpoche came about because I had started Shambhala Publications and I was his publisher. It was that circumstantial." Sam continued. "Most people looked for him, but I was the only one he looked for, Larry Mermelstein said of me. He was gathering his disciples. For all of us, it was an immediate, amazing connection."
Core Vision of Shambhala Publications
The core vision of Shambhala Publications was no different than the core vision of Chogyam Trungpa Rinpoche's Shambhala vision, except missing a Sakyong. It was to bring enlightened living and enlightened teachings into the western world.
Trungpa Rinpoche served as an adviser for Shambhala Publications for many years and was also a member of the board for Shambhala Publications. He was known to say that the the best people came through Shambhala Publications. Certainly, before the Shambhala teachings were shared widely, many of his closest students worked at Shambhala Publications over the years, including the Gimians, Larry Mermelstein, Emily Sell and Emily Bower.

Going forward?
"Currently I am chairman of the Board. It's my children running the company these days."
The basic vision has continued through Ivan and Sara who decided it would be better that they continue it than sell it to a large conglomerate. Every large conglomerate made a bid for it, it's just the consolidation of an industry. But Shambhala Publications has remained an independent family business, owned by the Bercholz family. It has been extremely successful, incorporating SnowLion Publications, and starting Roost books.
About a year or two before the Vidyadhara passed, he met with Sam and asked Sam to make sure that two things be published. The first was his book on Lojong, which was published shortly thereafter, with Judy Lief as the editor.
But the main thing that he wanted to be sure happened was the publishing of the three volumes of the seminary talks. It was extremely important to have this published for the world, to have the complete nine yana path published with concise details.
"That was the main thing he asked of me as a publisher and student. That his various volumes of special teachings as the Dharma Ocean series be published. After years and years of hard work it has happened. I'm now the happiest publisher on the planet!"
There is an amazing amount of material left. There was an incredible outpouring of the lion's roar of dharma that will continue to unfurl for many, many years. He is to the west what Padmasambhava is in the East. He taught so extensively wherever he went. Like Padmasambhava, many of his works are for future generations, not necessarily for the present generation.
"However, I've done my job, now it is the next generations turn."
~~
To learn more about Shambhala Publications, visit them online by clicking here.
Post Tags:
books
,
Chogyam Trungpa
,
interview
,
Shambhala Publications