Saturday
Mandala Projects
The Real Power of Sun Camp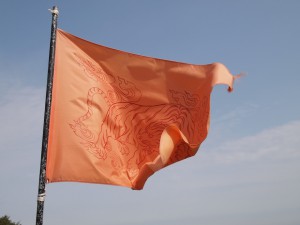 COLUMN: Youth and Families
Dancing in the Shrine Room
by Leslie Gossett
Shambhala Times Column Editor
In general, we desire to offer our children what richness we can. Nourishing food, a safe place to lay their heads, plenty of resources, opportunities to learn how to be in the world. How do we go beyond this? How do we allow children the space to really discover themselves?

There may be multitudes of answers to that question, but what Shambhala Sun Camp has to offer seems like a really good one. Some of the literature for Sun Camp describes it thus:
One of the basic texts Chogyam Trungpa Rinpoche wrote about how to raise a Sakyong says that you should put someone in an environment free from jealousy, free from competition, and infuse them with their basic goodness. That is exactly what happens at Sun Camp.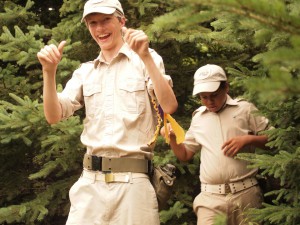 Sun Camp is an overnight camp for children ages 10-16 held at Shambhala Mountain Center, Dorje Denma Ling, and Dechen Choling. Living in tents, working, eating, and practicing together, campers are allowed to discover themselves. Through camaraderie, space, and discipline, the world opens up.
Richard Vogler has been staffing Sun Camp for 15 years. He explains that, "the way that the [campers] are able to be with each other, the ways in which they all lead, learn and experiment is in a near constant state of tenderness. Even when things are difficult. A couple weeks after camp I often receive calls or letters from parents asking me what we teach them. They tell me that the display of their children's understanding of basic goodness, through the way that they are, is tremendous. Like they have been practicing and studying for decades. The benefit of Shambhala Sun Camp is like basic goodness, beyond the wisdom of words to accurately describe."
Ben Williams began attending camp in 1999, at age 13. "That first taste," he recalls, "of walking through the tall grass, across a wooden bridge, and through the tall tori, entered me head first not just into Sun Camp, but the world of Shambhala. I felt from the first moments I arrived there that I had come home – home to a place where I was not only allowed to be who I was, but somehow couldn't be anyone else. That is the real power of Sun Camp – the thing that continually amazes me – that it makes effortless and irresistible the thing that we try so hard for: experiencing basic goodness."
The resounding sentiment is that real magic happens at camp each year. That what we can offer our children here is a profoundly spacious and tender experience.
Ben says it beautifully:
How you manifest and what you become at camp is directly related to how much you want to give yourself up, how much effort you want to put in. If you want to be timid, there is a place for you, if you want to be courageous, there is a place for you, if you want to put on mascara with the camp commander, there is a place for you too.

And we have all been timid, we have all been courageous – which is the way the real world and a real enlightened society works – our lives do not seem perfect, our mistakes are continually cropping up, and things don't always go how we want, but there is a place for all of that – all of that is okay. Every camper jumps into that long lineage – and you can keep coming to and connecting with Sun Camp for your whole life, if that's your desire.

Sun Camp is space, it's very simple really, it's just space. That space is carved out in a particular way, and maintained in a particular way, but it is just space. That space allows for that kind of instant feedback that Trungpa Rinpoche talks about in Sacred Path of the Warrior. We always get some kind of feedback from the world – we can trust, not that the feedback will be good or bad, but that we will get some kind of response. At Sun Camp, there is so much space around our actions that we can see that response clearly – our interaction with the world becomes very direct, and because of that we don't really have a choice about basic goodness. It's just right there and we can't really get away from it – there's no opportunity for us to say, "This is too much, or too hard, or too whatever."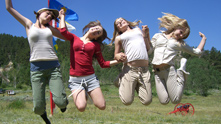 How important this seems to our children, our society, and our world. As Sakyong Mipham Rinpoche explains so eloquently in The Shambhala Principle, "When children are raised in an environment that does not encourage basic goodness and self-worth, their sense of self-identity becomes fragile and confused. This imbalance leads to unhappiness and aggression such as bullying, which naturally begins to affect society." So, here is this amazing chance for us to experience this vital link – this integral teaching in a space and situation that feeds everyone who participates.
It's not just the campers who come away with something. Thinking of his experiences at Sun Camp over the years, Richard describes how, "the environment that is created there by the campers themselves is so empowering that it is moment after moment of truly heartbreaking experiences. I often feel like the tables are quickly switched." He continues, "the campers have become my teachers. It is hard to quantify the amount that I learn from them, it feels like they give so much more than I could ever possibly offer back."
It does it little justice too, to say that Sun Camp changed my life, but it did, and it continues to shape me. It is a continual high point in my year, and I can't wait to go back again and again – to march in the mown grass, to sit around the roaring fire, and to lie under the bright-shining stars. (Thanks, Ben.)
The next sessions begin July 24th at Dechen Choling and August 1st at Dorje Denma Ling.
To register, or to find out more, visit shambhalasuncamp.org.
~~


Leslie Gossett is a student of all things human. She lives in Silicon Valley where she works with children, words, mind, and body.
Post Tags:
Sun Camp
,
Youth & Families