Sunday
Mandala Projects
Celebrating a Kasung Kitchen
article by David Whitehorn
on behalf of the Kasung Land Group in Nova Scotia, led by Steve Gleich
With juniper smoke, traditional Tibetan Buddhist chanting and cries of "KiKi SoSo", Dorje Kasung young and old gathered on July 31, 2013 to initiate and celebrate the new Kitchen and Storage Building recently completed at the Encampment Grounds in Tatamagouche, Nova Scotia.
For twenty years, this beautiful meadow and surrounding woods, overlooking the Northumberland Strait, and just a ten minute drive from Dorje Denma Ling, has been home to numerous Magyal Pomra Encampments (MPE) and Shambhala Sun Camps. Through all that time there were no permanent structures on the encampment ground.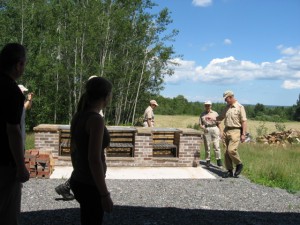 In order to accommodate the large number of people involved in these programs each year an elaborate matrix of tarps, poles and supporting ropes were constructed to house the outdoor cooking facilities. Storage of food (and all other supplies) was done in an old barn located a five-to-ten minute walk away from the encampment ground itself.
Over the past six years a concerted effort by a number of Kasung, led by Kay Crinean, Rupon, developed and implemented a plan for a building, nestled in the trees at the edge of the meadow, that would serve both as a kitchen and a storage building, capable of holding all supplies associated with the use of the encampment grounds.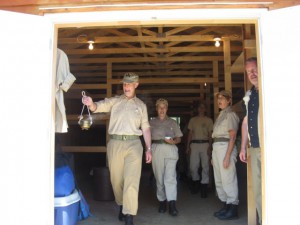 The building was carefully designed to preserve the sense of close connection to the elements, so central to MPE and Sun Camp, by creating a large covered outdoor food preparation area along with newly designed hearths for cooking over open fires. All of the design and construction was based on the latest standards for sustainability, including use of framing lumber harvested from the Kasung Land and milled on site. In addition, the project was built to local building codes and received its final approval and occupancy permit on July 25th, just in time for the start of 2013 Sun Camp.
With support from the Dorje Kasung Endowment fund, and 210 individual donors, sufficient funding was obtained to begin work on the project in 2009, with improvements to road access and other infrastructure issues. Other financial support came from Shambhala Sun Camp, the Dorje Kasung Land Group and Dorje Kasung International. A crew led by Paul Selva completed the major construction in summer of 2012.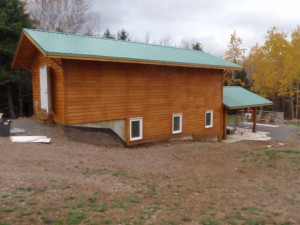 The new building makes the use of the encampment grounds safer and more efficient. It vastly improves the sanitary conditions involved with food preparation. The large second floor storage area of the building serves as a safe refuge in the case of severe weather, as well as storing all tents and other equipment at the end of a program. "Take-down after Sun Camp this year was a breeze!" declared Ben Williams, a senior Sun Camp staffer.
"The new building means that this wonderful facility can be efficiently used for many kinds of programs, short and long, not just MPE and Sun Camp," according to Stephen Gleich, Rupon, chair of the Dorje Kasung Land Group which manages the encampment ground. Anyone with an interest in further information or to explore the possibilities for new programs at the encampment grounds can contact the Kasung Land Group at: [email protected].
Post Tags:
Dorje Denma Ling
,
Dorje Kasung
,
Kasung Kitchen
,
MPE