Sunday
Mandala Projects
An Unforgettable Trip to Tibet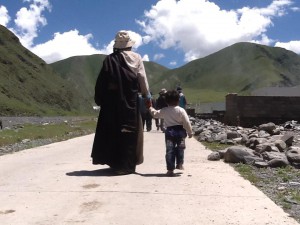 UPDATE: From the Gesar Fund
by Eric Elbers
The Gesar Fund Foundation, based in the Netherlands, focuses on alleviating poverty, stimulating education and fostering health in the Tibetan region of Kham (including Surmang, the location of the monasteries of Chogyam Trungpa Rinpoche) and in the region of Golok. Gesar Fund Board members Eric Elbers and Nyima Kunga traveled to Donda (Yushu, Kham) during the summer of 2013 to visit the projects funded in the past year. Following is the text of a beautiful letter that Eric addressed to the Fund's sponsors, reporting on that trip.
Invited and encouraged by my colleague Ganja Nyima, I decided to go to Tibet this year to see with my own eyes the country I had heard so much about, and especially to see in action the projects we've funded.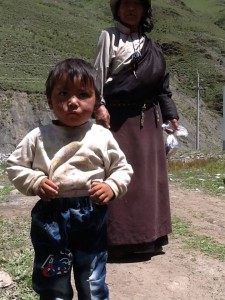 It was a long journey. After flights to Shanghai, Xining and Yushu and a beautiful car drive we arrived in Chengdu, a small town at very high altitude. The earthquake devastation of 2010 was still visible everywhere. Half-destroyed small houses are still (barely) standing, while all around smaller dwellings have been completely wiped out.
The people in the area are working tirelessly, literally day and night, to rebuild the region. Some transit roads are already paved. New government buildings, schools and hospitals stand amidst the earthquake rubble, which slowly is being cleared away. Trucks move in and out constantly, and construction workers are continuously laboring.
The people are exceptionally friendly. I am stared at regularly, photographed often. Mobile phones are as widespread as in Holland. Families are very important. All generations live together; family members from another city can lodge with family or acquaintances. Houses are loaded with sofas that can serve as beds for unexpected visitors. Every house, without exception, has a room reserved for a shrine. Photos of lamas, thangkas and relics make colorful displays. It strikes me how much time people spend practicing their religion. Praying, meditating, chanting, offering: it is all part of the daily ritual.
Some years ago the Gesar Fund decided to provide a large bus, which now serves as an ambulance that carries an x-ray imaging machine. It is very useful for tracking lung diseases and, directly after the 2010 earthquake, was used to make and provide x-rays of broken limbs.
Nyima and I made an unannounced visit to the bus toward the end of a thirty-day trip in the high mountains. The bus is heavily used, but well maintained. The team is made up of Chinese and Tibetan doctors, nurses, drivers and other volunteers who every day visit a different village, where the locals can be tested for hepatitis and TB. The cooperation with the Chinese hospitals is still very good and doctors, medication and other goods are without fail made available to the team.
Thirty days on the road, every day sleeping in a different location, and every day some two hundred medical investigations! Hundreds of people vaccinated and treated by the team, in cooperation with local doctors. We made an agreement with a small local hospital to vaccinate and treat nomads who were not yet officially registered. It all touches me very much.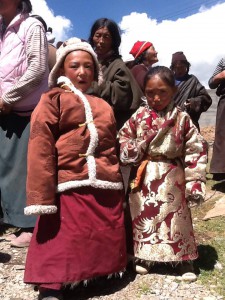 The team enthusiastically speaks about the opportunity they have to further help and educate the people. Education remains a necessity: knowledge about standards of healthcare is completely lacking. There is no knowledge about hygiene or disease transmission. Sexually transmitted diseases (STDs) are already widespread and continue to expand: they are more or less dismissed as a women's issue. Nyima and I have decided that the Gesar Fund will, in cooperation with local medical staff, focus even more on healthcare education.
I wish that our donors could see with their own eyes how well spent their donations are, and what is possible here with a relatively small budget. I must admit, I am also somewhat proud as we learn how well known the Gesar Ambulance is. People in small villages know exactly where it is at any moment!
Self-sufficiency and sustainability are always important. Recently the Gesar Fund has expanded its poverty-fighting efforts to include the means by which local people can make an income. For example, after the 2010 earthquake we provided what was needed to allow bakers to feed the victims. Those materials now have been moved to a village close to a monastery. A single mother was given the opportunity to train in the city of Xining and now she runs the bakery. It's wonderful to see her baking, selling, cleaning and — not unimportant — making a profit. She can provide for her own living, take care of her sick mother and send her children to school!
Another example is the Gesar General Store located in Donda, which sells wholesome products at a fair price and also is self-supporting. (Unfortunately, when we visited the store was closed due to family circumstances: a child related to the shopkeeper had passed away.)
The Gesar Fund is known in the area and has a good reputation, thanks to the many local volunteers who make time in their lives to care for others. Daily, under supervision of a manager, a doctor and a lama, the volunteers decide which activities have priority and who might be able to assist.
And in September we made plans for the upcoming year. Although immediate help is needed on a daily basis, we aspire to maintain our long-term vision.
I've seen for myself that contributing to the wellbeing of the people in Kham through education, healthcare and economic support is enormously meaningful.
Tibet, I will not forget you!
~~
More information, updates, and photos can be found on the Gesar Fund Foundation website, Photostream and Facebook page.
Post Tags:
Gesar Fund
,
Tibet