Monday
Opinion Pieces
Imperial Culture vs. Cultural Imperialism
COLUMN: Living Shambhala Culture
This series of articles is brought to you by the Shambhala Office of Culture and Decorum. We hope that these offerings will bring fresh perspectives on living our principles, invoking drala and enriching culture in our homes, centers and communities. If you have any suggestions or contributions, please feel free to contact Wendy Friedman, Director of the Shambhala Office of Culture and Decorum:
[email protected]
by Amanda Hester, Adjutant to the Shambhala Office of Culture and Decorum
In The Shambhala Principle, the Sakyong writes: "The point at which we fully comprehend the problem is the point at which the solution dawns." (pg. 47)
Culture is one of the greatest and most devastating weapons of oppression. It is one that is so easily and obliviously reinforced, and its aggression arises from insecurity and doubt. Because of this, it is particularly important for us in Shambhala at this time, to arouse interest and curiosity about our current culture, the culture we are trying to create, and the pervasive culture and cultures around us. We need to deepen our understanding of our cultural forms, language, and traditions, and push ourselves to notice and question what it is we are creating in any given moment.
Culture is everywhere, with lineages of entrenched oppression that have been normalized, that we don't even see. We may feel the shadow of oppression, but rarely is it recognized, given voice, one is confronted with the need for courage in order to point it out, the need for courage even to allow it to be identified. More often than not we feel threatened, confused, defensive, or irritated and uncomfortable, we don't want to deal with it. How does even the word 'oppression' make you feel?
In Shambhala, if we are going to talk about creating culture, and creating enlightened society, we need to deal with it.
What is the culture of Shambhala, what is its view?
The underlying point of all Shambhala cultural forms is basic goodness and service to others. Often, our forms can feel uncomfortable, or challenging, constraining even, though at times those same forms can feel delicious and liberating. They serve to challenge us, to cultivate discomfort as opposed to cosiness, they serve to wake us up and dignify our world. They serve to remind us and to push us into living actualized lives as dignified regal earth-protectors, as completely awake basic goodness itself.
But that view needs to be understood within the practical reality of the forms themselves. Those forms need to be alive and malleable. If we engage in this inquiry, contemplate the connection between the view, the form, and the experience, then we will develop the confidence to be able to play and change, to work with the form, even drop the form, while maintaining the view and its desired outcome of touching the sharp and brilliant warmth of basic goodness, within ourselves and the environment. The priority of the teacher, and of the dharma, is that the student should have this experience. We engage in our cultural forms as an offering of service to others.
The genuine desire to be of service to others is not enough to break us out of our self-absorption. Let me say that again. The genuine desire to be of service to others is not enough to break us out of our self-absorption. We need to actively work to do this. We need to arouse curiosity and consideration for the actual experience that others have and are having around us. We need to work at prioritising this consideration above our own opinions, or nostalgia. We need to trust in basic goodness, and have confidence, so that we can allow others to have their own experience even if it is entirely different and contrary to our own. We need to recognize how incredibly attached we are to our experience and understanding of Shambhala, and recognize how this does not in fact help with what we are trying to accomplish.
Curiosity about our own culture, as well as that of others, does not necessarily result in our changing our forms or our language, it merely opens our minds to the possibility of change, it allows us to better present, represent, and communicate the underlying view, and it keeps what we are doing fresh and alive. We can have confidence in, and appreciation for, our unique use of specific forms and language, like our endless references to "imperial", or our use of classic British forms of etiquette. But do we fully understand the lineage and context within which these cultural weapons have been used in the past, or are currently being used outside of our tradition? We purposely take forms and words that are conventionally used within a context of oppression, and we engage with them in an attempt to transform a culture of aggression. As with the Dorje Kasung, our purpose is to liberate the inherent power and goodness within these words or forms as a means of cultivating dignity, appreciation, and compassion.
But do we understand oppression?
Are we open and curious to understanding it better? Most importantly, are we open and curious to understanding how that cultural oppression is a part of the culture we participate in, and create, within Shambhala? How can we understand or communicate that our usage, our context, our culture, is different, if we are not willing to explore how it might be the same? We meditate as a means of gaining greater awareness, but we need to feel comfortable bringing this awareness to our culture and society as well.
Do we have a solidified understanding of what is deemed 'appropriate', or 'uplifted' expression? Does this lead to exclusion? Do we marginalize certain ideas and opinions? When we leave the shrine room, do we notice the people on the sidewalk trying to get by? Do we give equal weight and appreciation to the feminine principle that is beyond sex or gender, or do we prioritize what happens in the shrine room over what happens outside and off the cushion? Do we prioritize programing over balance and spaciousness in the schedule? Do we prioritize the feast above the clean up? Do we prioritize our service to the teacher above the student's experience of dharma? Is cultural change and magnetism really going to arise from endless presentations, or is it going to happen during potlucks and block parties, where the only thing on the agenda is watching the kids make forts out of gomdens? Where are our soup kitchens? How do we give back to the communities outside our own? We need to recognize that there are many different ways to practice and to teach the truth of basic goodness, and to create enlightened society, and that they are all of equal value.
We cannot discuss the creation of a culture of kindness or otherwise, without acknowledging its weapon principle, and we should not play with weapons that we don't understand. Understanding oppression is not a bummer, in fact it is invigorating. I am white, I am privileged, and I can understand oppression. I take part in it, am weighted down by it. The world is suffering under a deeply entrenched and systematized violence and oppression against the feminine, against the very principle that will allow us to experience and understand our interdependence.
We need to begin to transform the aggression of culture, to notice its subtlety, develop our awareness, use our privilege, point to it, uncover it, proclaim it, rage against it, stamp it out. And we can dare to do it now, in the trenches, in the midst of our unfortunate complicity, one moment of awareness at a time.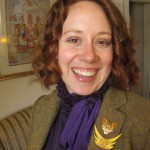 ~~
Amanda Hester lives in Halifax Nova Scotia, where she works for Shambhala International as the travel coordinator for the Kalapa Court. She is in the process of writing a fantasy book about basic goodness, and a non-fiction book about enlightened military. Amanda has been Adjutant for the office of culture and decorum for the last year. Visit her new website: amandahester.com

Post Tags:
Culture
,
Living Shambhala Culture
,
Opinion Pieces
,
Shambhala Culture