Monday
Scene and Heard
Contemplation, Collaboration & Change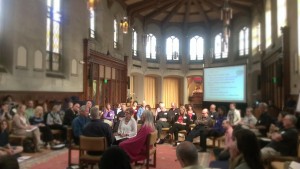 On Bridging Shambhala and Leadership
report by Acharya Fleet Maull
On Friday, September 27th, nearly one hundred nonprofit leaders, educators and activists from approximately fifty different organizations gathered at the Garrison Institute, a stately three-story interfaith retreat and conference center located on a beautifully wooded property overlooking the Hudson River near Garrison, New York. After dinner, we gathered in the large meditation hall. This former Franciscan monastery is awe inspiring with its vaulted ceiling, refectory and main chapel still lined with stately wooden pews. It is now arranged with meditation cushions and a large Buddha statue at the far end where I imagine the altar used to be. Velvet curtains screen the Buddha statue from view for some interfaith or more secular events. The Garrison Institute, founded by Diana Rose and her New York real estate developer husband, Jonathan Rose, lists its spiritual advisors as Father Thomas Keating, Gelek Rinpoche and Rebbe Zalman Schachter-Shalomi.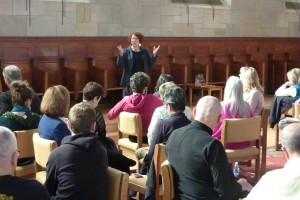 Norman Oberstein, one of the two "Normans" (Norman Obstertein and Norman Marcus) who direct the Frederick P. Lenz Foundation for American Buddhism, welcomed us to this first three-day event of a ten-month Lenz Foundation sponsored training. The training is an exploration of skillful means for collaboration, innovation and leadership for the grantees and their invited collaboration partners. It includes four webinars, considerable organizational work in designing collaborations, and a final three-day gathering at Shambhala Mountain Center (SMC) in June 2014. Norman then handed the event over to the very capable direction of our team of three facilitators from the Presencing Institute faculty, Reola Phelps and Shambhala Acharyas Arawana Hayashi and Susan Skjei.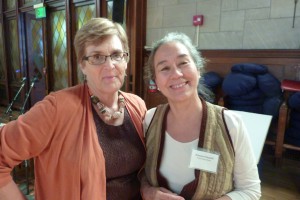 The Presencing Institute emerged from a ten year (1996 – 2006) research project at MIT conducted by Otto Scharmer and colleagues Joseph Jaworski and Peter Senge, resulting in a consciousness-based framework for leadership and change known as Presencing or Theory U. Reola Phelps has led large-scale change projects in almost a dozen African countries. Acharya Arawana Hayashi leads the development of embodied presence practice in collaboration with Otto Scharmer and the Presencing Institute. Acharya Susan Skjei provides a variety of mindfulness-based training and consulting services employing the Theory U framework and methodology.
Over the next two and a half days our facilitators guided us through a thorough exploration. We examined our individual and collective visions and delved into our goals and capacities for collaboration. Employing the Theory U methodology as a guiding framework we explored our capacities for innovation and social transformation, and used a variety of large group processes like Conversation Cafés, Fishbowl Council and Open Space Technology.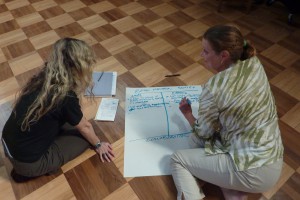 Each organization had the opportunity to explore its own goals, needs and capacities and to share those with all the other potential collaboration partners at the gathering. The goal for the participating organizations over the coming months is to develop collaboration project proposals with other participating organizations or any organization of their choosing. Collaboration proposals will be presented at the SMC gathering in June and all proposals meeting the criteria established by the participants at the Garrison Institute gathering will receive some funding support from the Lenz Foundation.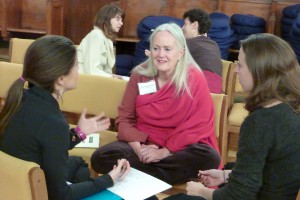 I attended the gathering representing the Prison Mindfulness Institute and invited several potential collaborating organizations to the gathering, including the Chicago Shambhala Center, represented by Janet Hasz and Aarti Tejuja, and Chicago-based Cure Violence organization as part of the ongoing violence prevention and peace work collaboration arising from the Imagining Peace event led by Sakyong Mipham Rinpoche in Chicago last June. Other participating Shambhalians included Acharya Judith Simmer-Brown representing Naropa University, Joanne Martin-Braun director of NorCal Shambhala, Ericka Phillips director of the New York Shambhala Center and Jane Vosper representing the Sakyong Foundation.
~~
For more information on the Lenz Foundation, please click here.
Post Tags:
Acharya Arawana Hayashi
,
Acharya Fleet Maull
,
Acharya Judith Simmer-Brown
,
Acharya Susan Skjei
,
Garrison Institute
,
leadership
,
Lenz Foundation
,
presence