Friday
Dharma Teachings
Reclaiming our Sensitivity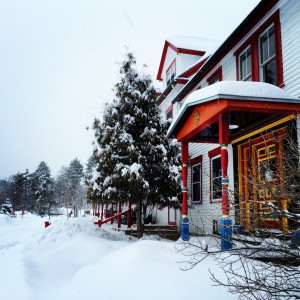 COLUMN: Dharma Teachings
article and photos by Evan Silverman, Karme Choling
Recently I had the special honor and privilege to be a meditation instructor for a half-dathun (two-week retreat) led by Acharya Suzann Duquette and Shastri Ethan Nichtern. I've known both of them for a few years now, and was excited to have the chance to work so closely with two people very important to what's happening in Shambhala right now.
Acharya Duquette works directly with the Sakyong on a host of teaching and form items, and Shastri Nichtern is inspiring herds of people from New York City to deepen their practice and knowledge of the dharma, both through the Shambhala Center and his organization the Interdependence Project. I strongly suggest you catch one of these wonderful teachers if they're teaching near you, and to also keep an eye out for Shastri Nichtern's upcoming book, The Road Home.
Throughout the two weeks, certain themes would continue to appear, both in talks and during the question-and-answer periods. Two of those themes revolved around gentleness and vulnerability. Not surprising, as honoring how we feel was a major theme of this program.
How can we be human beings to the fullest extent? How can we put aside all the distractions and interruptions and actually be sensitive enough to touch into how we are feeling? And then, how do we react when what we encounter is something that scares us? These were all explored during the program, both by the participants and the teaching staff, who (it's easy to forget) are doing the retreat as well!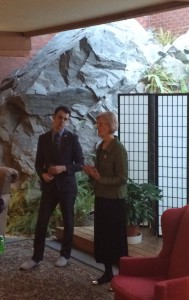 One afternoon a few days into the program, Shastri Nichtern gave a poignant talk, which struck a chord with me. Going along with the themes I mentioned earlier, he posed the question, "Why have we forgotten to feel?" And he suggested that perhaps we were actually taught how not to feel, by people who were taught how not to feel, by people who were brought up in a culture of beings taught how not to feel.
Gosh, the odds are against us, aren't they? And we're supposed to wake up in this lifetime?
Anyway, Shastri Nichtern really got me thinking. How was I raised? Is it true? At what point did I transform from an innocent child, open to all feelings and emotions, and start to build a wall of protection?
I don't know about you, but for me it started quite early. We've all got our stories, and there will always be someone around the corner who has had it worse than we did. But that doesn't diminish what we went through in the slightest. Looking back into my eyes as a child, I can see a different picture. A youngster with a lot of energy making failed attempt after failed attempt to connect. And what did it lead to? The same things as so many of us – mistrust, fear, and anger. Along, surprisingly, with an ever-increasing longing to connect to others.
Fast-forward thirty years, and here I am. And here we are. And here are our teachers, offering us an opportunity. You know the line in the chant, "He who has neither beginning nor end"? What I'm suggesting, is that by freeing ourselves from the bondage that we've been living in since our early years, we can actually let the past go and stop worrying about how it's going to affect tomorrow. We can perhaps be right now, without beginning and without end.
This invitation sounds like a daunting task, I know. Thankfully, we have some tools, some (dare I say) weapons, which can be used to remind us that we don't exist completely in our heads. And we have teachers like Sakyong Mipham Rinpoche to lead and inspire us to be warriors: possessing the bravery to face our fear and to look at the situation precisely how it is. Being with ourselves and the moment, no matter how scary or painful it may be.
When you're experiencing something that's triggering sensitivity, there are different ways to go. You can lash out, blame others, and start defending yourself. But you can also try something different – you can investigate what is making you feel that way. And then get under that. Look into yourself in a non-judgmental, gentle way. Just what is happening inside of you? Investigating this way, we mature and grow both as practitioners and as human beings.
We have to start with the ground of gentleness. Whether we are sitting or we are looking in the mirror, self-aggression is bound to rise up. We have to be ready for it in all its manifestations: judgment, regret, even expectations of what the spiritual path is going to do to us. When we encounter this aggression we have to meet it with the whip of gentleness.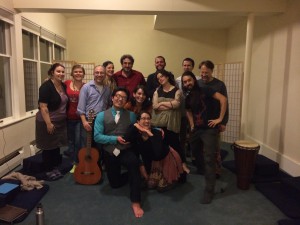 Through this gentleness we have full permission to cease the struggle. Whether it's mental or physical, meditation doesn't have to be a battle every time you sit on the cushion. It can actually become something we enjoy! I remember when I first started meditating, the goal was the finish line, to "make it." Very little relaxing was going on. Fast-forward years later, and I occasionally remember that it doesn't need to be like this. Whatever is going on, we can handle it. You can even tell yourself that, "Whatever I'm feeling, I can handle it."
Now that you've relaxed (I've given you permission, so you must) this is where we reach our individual crossroads. We are able to hear our heart and to take a new journey. What is happening at that very moment? What am I feeling? Where am I feeling it? Because we're relaxing, we're not indulging. We are letting go of the old habitual pattern to not feel at any cost. From here we can actually think of what we want to do, and how we can benefit others, because we're no longer caught in the vice between our past and our future. We have the space created by being timeless, only being in the moment, and from this space little nuggets of wisdom are allowed to be uncovered, which we can take from our cushion into our lives.
The path to reclaiming our sensitivity is a journey. It all comes through feeling. A gradual path that takes time to reveal itself. It's true – we have been trained to push away, by people who have been trained, by people who have been trained. If it's in our DNA, we cannot expect our evolution into sensitive beings to take place over night, or in one short retreat. Rather, it is a journey. A journey that may seem treacherous at first, but with tenacity (and patience) will bring tremendous benefit to yourself and those around you.
A journey of a lifetime, a journey of lifetimes.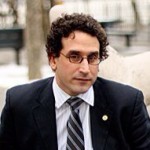 ~~
Evan Silverman began practicing and studying the dharma when he met his first teacher, Chagdud Tulku Rinpoche, in 1994. He began studying under Sakyong Mipham Rinpoche in 2004 and is currently the Director of Human Resources at Karme Choling. A native New Yorker, Evan has been a human rights advocate in his past, as well as a successful musician. He plays both the electric and upright bass and is currently learning the shakuhachi.
Post Tags:
dathün
,
Dharma Teachings
,
kindness
,
meditation
,
reflection
,
sensitivity