Monday
Featured Stories
A Hundred Years Later
A Collaborative Article Chronicling the Cultural History around the Hungarian Shambhala Group in Budapest
written by Acharya Matias Pongracz, Peter Nowak, Daniel Zoltan Boldog and Robert Potor
The Hungarian Shambhala Group was founded three years ago in Budapest. Currently we have about ten active members and over the past few years more than 100 people have attended our programs.
The first Shambhala Training program in Hungary happened in October 2010 in the town of Szeged near the border of Serbia. Mr. Tibor Hendrey from the Tibet support association Sambhala Tibet, generously offered his place and support to start a whole cycle of Shambhala training in Budapest.
The first level happened at the buddhist university "a tan kapuja" – "the gate of dharma" a year later, with 70 people attending the opening talk. Since then two cycles of the first five levels of Shambhala Training have occurred and a small group of dedicated practioners now gather weekly at a rented space to sit together and listen to talks from the "everyday life" courses of Shambhala.
Chogyam Trungpa Rinpoche is well known and respected in Hungary. Eight of his books have been translated into Hungarian in the last 25 years. His works are read among the several hundred students that study at the Buddhist university called "The Gate of Dharma" in Budapest. There is a great interest for Tibetan buddhism in Hungary, particularly because of the famous Hungarian Orientalist and philologist Alexander Csoma de Koros (1784-1842). Csoma de Koros, originally from Transylvania is revered today as the founder of Tibetology in Europe. He wrote the first Tibetan /English dictionary and the first Tibetan grammar book, as well as an analysis of the Kangyur. Csoma de Koros had studied philology in Gottingen before he set out on foot in 1819 to Asia to investigate the Asian ancestors and ancient homeland of the Hungarian people, said to be somewhere in the far east.
After a long, arduous and adventurous journey by foot, in 1823 he ended up at the Monastery of Zangla, situated at an altitude of 3500m in Zanskar, at an age of 39. There he studied for a year and a half under the guidance of a Tibetan lama in a cold and unheated stone cell. During this period he was able to learn 40,000 Tibetan words and to penetrate the Tibetan language and literature. For all this work he received the very modest sum of 50 rupees – from representatives of the English colonial authorities.
In 1834, his work became creating the first authoritative English/Tibetan dictionary and Tibetan-Sanskrit-English dictionary of Buddhist terminology, which was published by the Asiatic Society of Bengal. By the age of 58, after having spent 20 years in India, with an invitation from the 11th Dalai Lama he pushed on with youthful energy to reach Central Asia through the plateau of central Tibet. When he crossed the marshlands of Terai in Northern India, however, he contracted malarial fever. His body found final rest at the British resort of Darjeeling, where he died. The Asiatic Society of Bengal erected a monument over his grave. After a lifetime search, Alexander Csoma de Koros could approach the land of his dreams only in his imagination.
At the beginning of the 20th century, a Hungarian memorial tablet was placed on the monument of his grave containing the words of the Hungarian count István Széchényi: "A lonely Hungarian, without applause or money inspired with enthusiasm sought the Hungarian native country, but in the end broke down under the burden."
In 1933, Alexander Csoma de Koros was declared a bodhisattva in Tokyo, Japan, for the reason of "having opened the heart of the West for the teachings of the Buddha," as it was stated. The Hungarian academy of science named its department for Oriental studies after Csoma de Koros and this department kept its work even under the communist regime (according to the documentation: Körösi Csoma Sándor – by Hetényi/ and Estely).
Throughout Hungarian history, we have traditionally considered ourselves the descendants of hun warriors. Our exceptionally rich folk-music legacy (we have more than 200,000 recorded folk-songs) preserved lots of Eastern melodies and our folk tales talk about an ancient shamanistic world-view.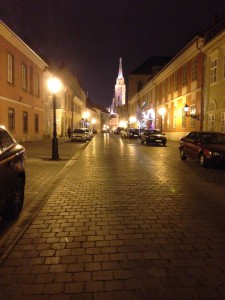 Maybe these ancient warrior traditions and our Eastern roots helped us so that the Hungarian Shambhala Group of Budapest can look back on a very busy past few years now. In the first two years of our founding we organized Levels 1 – 5 of the Way of Shambhala twice. The beginning of this past year we had a Rigden Weekend in Budapest and since then we are going forward with the Sacred Path weekends jointly organized by the Shambhala Center in Vienna and us.
Just recently, on November 7-9, we had the second weekend of the Sacred Path series, Windhorse. Our teacher, Acharya Mathias Pongrácz de Szentmiklos et Óvár, shared this group photo below and these words of wisdom about that weekend:
1914 – 2014 A hundred years later: did we learn from history?!

One hundred years after the outbreak of World War I, after the Austro-Hungarian Empire declared war on Serbia in Budapest, in November 2014, seventeen people gathered – from Serbia, Austria, Hungary, Germany and Canada to study and train in the practice of letting go. Raising a wind of delight it was a reuniting for representatives of the nations of Central Europe under the premise of fearless gentleness. Learning to handle the weapon that self liberates aggression, we received the transmission of the practice of windhorse. This practice arrived at the 4th year of the coming into being of the group of Shambhala in Hungary.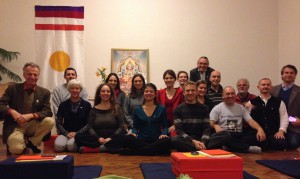 We are very lucky that we had the opportunity to host several great teachers during these years: besides Acharya Mathias Pongracz, we also have hosted Shastri Dorothea Gädeke, Shastri dr Otto Pichlhoefer and Shastri Maks Lan.
Acharya Mathias Pongrácz de Szentmiklós et Óvár is especially committed to supporting our Hungarian Shambhala group and we are ever grateful for that. He is from an old Hungarian noble family and his parents fled from the country when the Communists took power after World War II.
If anyone is curious and brave enough to come to Budapest for a Shambhala program we recommend you pack a shoe which is comfortable to dance in. We very much like to take our guests to a so-called dance-house where they can familiarize themselves with traditional hungarian dances, a living part of our culture.
Post Tags:
Eastern Europe
,
history
,
Hungary