Saturday
Dharma Teachings
Steadfast Clear Seeing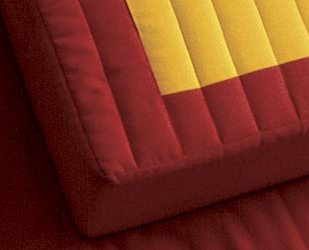 Dharma Teaching
by Ani Pema Chodron
originally published in Shambhala Sun
As we meditate, we are nurturing five qualities that begin to come forth over the months and years that we practice. You might find it helpful to reconnect with these qualities whenever you ask yourself, "Why am I meditating?"
Steadfastness
The first quality — namely, the first thing that we're doing when we meditate — is cultivating and nurturing steadfastness with ourselves. I was talking to someone about this once, and she asked, "Is this steadfastness sort of like loyalty? What are we being loyal to?" Through meditation, we are developing a loyalty to ourselves. This steadfastness that we cultivate in meditation translates immediately into loyalty to one's experience of life.
Steadfastness means that when you sit down to meditate and you allow yourself to experience what's happening in that moment — which could be your mind going a hundred miles an hour, your body twitching, your head pounding, your heart full of fear, whatever comes up — you stay with the experience. That's it. Sometimes you can sit there for an hour and it doesn't get any better. Then you might say, "Bad meditation session. I just had a bad meditation session." But the willingness to sit there for ten minutes, fifteen minutes, twenty minutes, a half hour, an hour, however long you sat there — this is a compassionate gesture of developing loyalty or steadfastness to yourself.
We have such a tendency to lay a lot of labels, opinions, and judgments on top of what's happening. Steadfastness — loyalty to yourself — means that you let those judgments go. So, in a way, part of the steadfastness is that when you notice your mind is going a million miles an hour and you're thinking about all kinds of things, there is this uncontrived moment that just happens without any effort: you stay with your experience. In meditation, you develop this nurturing quality of loyalty and steadfastness and perseverance toward yourself. And as we learn to do this in meditation, we become more able to persevere through all kinds of situations outside of our meditation, or what we call postmeditation.
Clear Seeing
The second quality that we generate in meditation is clear seeing, which is similar to steadfastness. Sometimes this is called clear awareness. Through meditation, we develop the ability to catch ourselves when we are spinning off, or hardening to circumstances and people, or somehow closing down to life. We start to catch the beginnings of a neurotic chain reaction that limits our ability to experience joy or connect with others. You would think that because we are sitting in meditation, so quiet and still, focusing on the breath, that we wouldn't notice very much. But it is actually quite the opposite. Through this development of steadfastness, this learning to stay in meditation, we begin to form a nonjudgmental, unbiased clarity of just seeing. Thoughts come, emotions come, and we can see them ever so clearly.
In meditation, you are moving closer and closer to yourself, and you begin to understand yourself so much more clearly. You begin to see clearly without a conceptual analysis, because with regular practice, you see what you do over and over and over and over again. You see that you replay the same tapes over and over and over in your mind. The name of the partner might be different, the employer might be different, but the themes are somewhat repetitious. Meditation helps us clearly see ourselves and the habitual patterns that limit our life. You begin to see your opinions clearly. You see your judgments. You see your defense mechanisms. Meditation deepens your understanding of yourself.
Stay tuned to read the last three qualities!
~~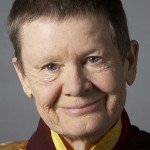 With her powerful teachings, bestselling books, and retreats attended by thousands, Ani Pema Chodron is today's most popular American-born teacher of Buddhism. In The Wisdom of No Escape, The Places that Scare You, and other important books, she has helped us discover how difficulty and uncertainty can be opportunities for awakening. Pema Chodron is a fully ordained Buddhist nun who is dedicated to the establishment of a Buddhist monastic tradition in the West. This teaching is from her recent book, How to Meditate: A Practical Guide to Making Friends with Your Mind, published by Sounds True.
Post Tags:
meditation
,
Pema Chodron
,
Shambhala Sun