Monday
Shambhala News Service
Sun Camp Applications Now Online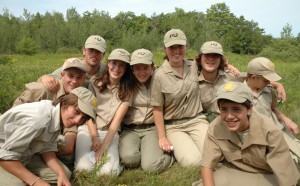 Sun Camp programs for the Year of the Wood Sheep are now available online: shambhalasuncamp.org. Sun Camp is an outdoor, sleep-away summer camp for children ages 10-16. Campers sleep in tents and enjoy the simple experience of waking up every day to their own world. Sun Camp is a place to have fun, make friends and learn to take responsibility for oneself and one's world in a gentle and playful environment.
This year marks the 32nd year of warriorship, camaraderie and delight — and the introduction of sponsor pricing so those with the financial ability to participate can help make camp available to everyone. Please read on for further information and program dates, and spread the word to friends and acquaintances far and wide.
Camp consists of three interconnected programs:
Sun Camp: the main week-long program, for ages 10-16. Cadet Command Workshop (CCW): a leadership training intensive for returning participants age 14-16 that starts three days before camp and continues throughout Sun Camp. Rites of Warriorship (ROW): a rites of passage program for 16 year-olds, for the two days following camp.
Program dates:
Sun Camp Colorado 2015 dates:
The Cadet Command Workshop (CCW): July 30- August 2nd
Sun Camp: August 2nd-9th
Rites of Warriorship (ROW): August 9th-11th
Sun Camp Nova Scotia 2015 dates:
The Cadet Command Workshop (CCW): August 6-9th
Sun Camp: August 9-16th
Sun Camp France 2015 dates:
The Cadet Command Workshop (CCW): July 29 – August 1st
Sun Camp: August 1 – 8th
Rites of Warriorship (ROW): August 8- 10th
Post Tags:
Children