Wednesday
Featured Stories
Reoch Celebrates at Theme Parks
Report by Shambhala Times Editorial Staff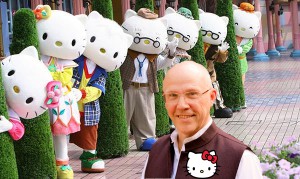 When asked after he took his Presidential Retirement Oath what he was going to do now, Shambhala's former President Richard Reoch jokingly gave the cliché response, "I'm going to Disney World!" It turns out he wasn't joking. Mr. Reoch took a trip to Japan to celebrate the conclusion of his tenure as President, spending full days at both Disney Tokyo and Sanrio Puroland, a Hello Kitty theme park. He said that the trip to Sanrio Puroland in particular was something of a pilgrimage, returning to his roots, as he grew up in a family that practiced Pure Land Buddhism.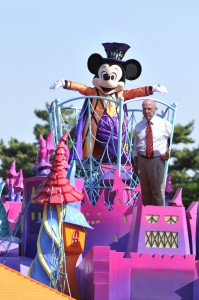 "It was certainly a release for me to be there," Mr. Reoch said. "It's been a long twelve years, but I feel like a new man."
When the theme parks found out Mr. Reoch would be visiting, Tokyo Disney arranged for a special parade on his behalf, while Sanrio Puroland invited him to give a speech, which he titled, "Hello Kitty, Hello Society."
"Both events were quite an honor," Mr. Reoch said. "Riding on the float was the experience of a lifetime. And while I am not convinced everyone
at Sanrio Puroland understood my message connecting Pure Land Buddhism and Enlightened Society – well, I'm used to that kind of thing anyway."
Mr. Reoch said he has no further celebrations planned, but that the Hello Kitty memorabilia he received at Sanrio Puroland that is now covering every inch of his home will make every day feel like a celebration.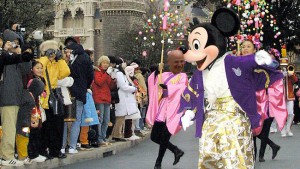 Post Tags: